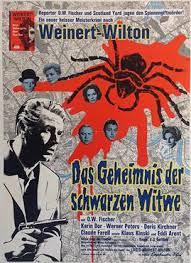 Mr. Wellby (O.W. Fischer) is a journalist who has been writing stories about a serial killer called The Black Widow. The killer poisons his victims using poison darts shaped like spiders. So far two men have been killed, one named Morton and the other named Robbins. Near them were notes with the words "Talk or Die" written on them.
Wellby goes to the newspaper archives to find out what he can about the two men who died. He learns from Mr. Fish (Eddi Arent) at the newspaper archives that in 1951 there was a Mexican expedition of nine people headed by Professor Avery. They were looking for an Aztec treasure. Avery died. It is said he was bitten by a poisonous black widow spider.
Upon their return seven of the members of the expedition founded the biggest paper in London, "London Sensations", the paper that Wellby works for. The seven men were Morton, Robbins, Brian, Cartwright (Jose Maria Caffarel), Charlie Sellwood (Gabriel Llopart), Broomfield (Antonio Casas) and William Osborne (Werner Peters). Osborne runs the paper and is Wellby's boss.
Wellby begins interviewing the members of the expedition. He starts with Bloomfield. Miss Miller (Karen Dor) works for Mr. Bloomfield at an antique shop. Wellby doesn't get much information from Bloomfield but he does flirt with Miss Miller. Mr. Osborne at the paper tries to rein him in but it doesn't work. He is approached by a man named Boyd (Klaus Kinski) who tries to warn him off. He then tries to talk to Sellwood but gets beat up. He is rescued by the mysterious Boyd.
Two more men from the expedition are murdered, Cartwright and Brian. Mr. Fish shows up at Wellby's boat and tells him the Avery had a daughter named Clarrise. Wellby finds out, when he breaks into her house, that Miss Miller is actually Clarisse Avery and she has copies of the Talk or Die note in her desk. Wellby is now stuck with the task of either exonerating Clarrise or proving she is the Black Widow.
"The Secret of the Black Widow" AKA "Das Geheimnis der schwarzen Witwe" was released in 1963 and was directed by Franz Joseef Gottlieb. It is a West German crime film and a krimi. It is the third of four films that were based on the novels of Louis Weinert-Wilton. The story takes place in England but the movie was filmed in Spain.
The plot is not as scattered as most of the Wallace krimis are and that's a good thing. It was so much easier to follow what was going on. Of course, everyone is a suspect and most of the clues point to Clarrise. Most people call it a Wallace wannabe but that's not fair. Not all krimi's were based on Wallace stories. This particular story is not bad. There is some suspense and a fair amount of suspects/victims. The precision of the killer to be able to hit his victims in the face or neck without having to really aim is unbelievable yet fun.
The movie has a musical number called "The Black Widow" sung by Belina. Born Lea-Nina Rodzynek Belina was a Jewish folk singer born in a village near Treblinka. When the Germans marched into Poland most of her family was killed. She managed to escape using a false name. She was eventually arrested and spent time in a concentration camp. She was fluent in six languages and could sing in twenty.