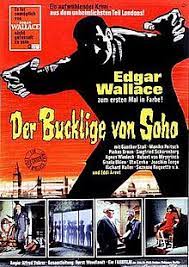 Recently there have been several murders in the Soho area of young women. Autopsies show that they have been strangled. It also shows that the women have been using strong detergents on their hands. The press suggests that there is a "Jack the Ripper" once again killing woman. Scotland Yard's Sir John (Siegfried Schurenberg) assigns Inspector Perkins (Gunther Stoll) to the case.
Wanda Merville (Monika Peitsch) is newly arrived from America. Her solicitor, Harold Stone (Joachim Teege) informs her that her father left her 500,000 pounds in his will. Stone's secretary, Emily (Biggi Freyer), is in league with a man named Alan Davis (Pinkas Braun). Davis' minion is a hunchback (Richard Haller). Davis has the hunchback kidnap Wanda and take her to Castlewood, a woman's prison. Davis then sets up his girlfriend Gladys Gardner (Uta Levka) to take Wanda's place in order to steal her inheritance.
The girls in the prison spend their days working in an industrial laundry. Trouble begins to brew when some of the girls at the prison begin to rebel against Davis and the evil head mistress Mrs. Oberin (Hilde Sessak). Girls that try to defy Davis end up either dead or working at a gambling den run by Mrs. Tyndal (Gisela Uhlen) in Soho.
Since there is no honor among thieves the bad guys begin conspiring against each other. Davis's duplicity is found out and he has his hands full trying to keep the girls in line and pull off his heiress switch while trying to avoid being captured by Inspector Hopkins and the bumbling Sir John. In addition the prison's saintly pastor Reverend David (Eddi Arent) is really a wolf in sheep's clothing and is part of the plan to steal Wanda's fortune.
"The Hunchback of Soho" AKA "Der Bucklige von Soho" was released in 1966 and was directed by Alfred Vohrer. It is a West German crime mystery and a krimi. The movie was based on a story by Edgar Wallace. It is the first film in the series produced by Rialto that was done in color.
The newer krimis moved from the noirish mystery films prevalent in the black and white movies to a more comedic style, especially in the color films that were based on Edgar Wallace stories. A lot of the comedy comes from the inept attempts of Scotland Yard to follow clues. The character of Sir John especially became a buffoonish plot devise and the bad guys end up killing each other before the police figure out who the villains actually are. For the most part the movies are still fun but they are not near as dark and complex as they use to be. Of course less complex I'm all for. Taken by itself the movie is a decent pulp story even though the plot is the standard rich damsel in distress.
This is one of the Rialto krimis. Rialto was a Danish film company that made somewhere around 32 films based on the Edgar Wallace stories. They are responsible for starting the krimi subgenre.
Ilse Page, who plays an inmate named Jane, would later be cast as Sir John's adorable and coquettish secretary Miss Finlay in subsequent krimi films.