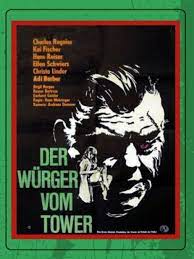 The wealthy Mary Wilkins has been strangled. The press and the police think that it is the work of a killer known as the Strangler of the Tower but he hasn't killed anyone in a year.
Inspector Harvey (Hans Reiser) and Inspector Travers (Peter W. Loosli) are investigating the case. Wilkins' daughter Jane (Christa Linder) is called to Scotland Yard. She tells them that she has been away at school and doesn't know anyone who would want to kill her mother. He asks her if she was wearing a pendant when she left the house. Jane says that she was wearing a copy of an emerald called a Parvati. She says the original should be still at home. She also tells them that she believes her mother got the emerald at a jeweler named Clifton and Clifton.
Mr. John Clifton (Charles Regnier) tells Inspector Harvey that there are at least three Parvati Emeralds in London. Besides Mary Wilkins', Clifton himself wears one as a ring, and the third is owned by a stockbroker named Sir Humphry (Alfred Schlageter). From Sir Humphry the police learn that Clifton's twin brother Harry (Charles Regnier) has been exiled. He embezzled from the company. They also learn that the emeralds were at one time part of one large stone that had a curse attached to it. There was a book written about the jewel by the explorer, Dr. Livingstone (Gerhard Geisler), but the book is no longer in print and is hard to find.
Before Jane can bring the real emerald to Scotland Yard she is kidnapped by a secret organization that calls itself the "Brothers of the Holy Order of Righteousness". They worship Kali and believe they are charged with gathering all the emeralds and returning them to her. They say that a thief stole the emerald and cut it into five different stones. They steal her emerald pendant and take her to caverns below an ancient castle. Under torture she tells them that the other owners are John Clifton, Mystery writer Grace Harrison (Kai Fischer), Lady Margaret Trenton (Ellen Schwiers) and Sir Humphry. One by one the owners of the cursed emeralds are killed by a team of murderers, but who they are working for is another twist in the tale.
"The Strangler of the Tower" AKA "Der Würger vom Tower" was released in 1966 and was directed by Hans Mehringer. It is a West German crime film and a krimi. The movie was written by Erwin C. Dietrich.
Like most krimis it can be a little confusing. Here we don't really have a bunch of plots going at the same time but we do have a bunch of conspirators plotting different schemes. The movie is also a little farfetched with a black robed secret society, torture and strippers. It's quirky and strange, not your normal who-done-it. There are also a few twists and turns toward the end that makes it unpredictable. It's one of those movies where you just have to go with the flow to enjoy it because it doesn't make a lot of sense if you look too deeply. If you just let it unfurl you might really enjoy it.
Christa Linder, who plays Jane Wilkins, was Miss Austria in 1962.
Ady Berber plays the strangler, Wurger. This was his last film before his death. He died of cancer in 1966. He was also a professional wrestler that earned two World Champion and three European Champion titles.