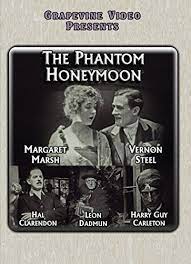 Professor Juno P. Tidewater (Leon Danmun) is a professor of psychological research and likes nothing better than to debunk stories about ghosts. While on vacation in Ireland with his two nieces, Vera (Harriet Cox) and Caroline (Katherine Perkins), they come upon Benmore Castle. Their guide tells them that the castle is haunted and no one goes there except Sakee (Henry Guy Carleton), an old Indian servant. Tidewater takes his nieces up to the castle wanting to learn about the alleged ghost of Benmore Castle. He is greeted at the door by Sakee.
Tidewater tells the servant of his interest in the castle. Sakee invites him in. Caroline and Vera decide they want nothing to do with the castle and head back to town with their guide. Over tea Tidewater asks about the legend behind the castle that makes people think it is haunted. Sakee had just learned that his master had died and there is no longer a reason to keep the story to himself. Sakee tells the tale.
An hour before Captain Bob Lambert is to be married he enters Benmore Castle while his bride to be, Betty Truesdale (Marguerite Marsh), waits for him at the Truesdale manor house. Bob is at Benmore Castle to settle a duel. It is an unusual duel between Bob and the owner of Benmore Castle, James Claven (Hal Clarendon). The two men sit on either side of a table with their arms exposed. Sakee stands in between them and opens a small box that contains an extremely poisonous snake. They wait for the snake to decide who to bite.
Before Bob left for Benmore he left an ominous note for Betty saying good-bye. Betty races to Benmore but ends up getting there too late. Bob has been bitten by the snake and is slowly dying. Betty is devastated and doesn't want to live without Bob. Sakee quietly opens the box and releases the snake again. It bites Betty. Betty and Bob happily die in each other's arms. The couple now haunts the castle together.
Sakee also relates to Tidewater the reason for the duel. Both Bob and Henry were in love with Betty. Betty was in love with Bob and when Bob proposed before Claven could she accepted. Claven was a vicious man and vowed to find a way to stop the marriage. His deviousness had no end. He not only tells Bob a vicious lie but also cheats during the duel to make sure that Bob is the one to die. His evil plan proves his undoing when Betty decides she would rather be dead with Bob than live without him.
"The Phantom Honeymoon" was released in 1919 and was directed by J. Searle Dawley. It is a silent horror drama and a ghost story.
Dawley boasted that he was the first "motion picture director". Something debatable but it is safe to say he was at least one of the first. He does have at least a hundred and eighty directing credits to his name. His first film was titled "Nine Lives of a Cat" 1907. According to Dawley prior to that the cameraman was in charge of what was filmed. Dawley maintains that he was in charge of supervising the action that the cameraman filmed as well as how the actors performed. Perhaps he's right. His film "Snow White" 1916 is said to have inspired Walt Disney. He was also the director of the 1910 film "Frankenstein"
The story unfolds in two flashbacks, the first three years previously and the second even further back. The first explores the bizarre duel and the result of it. The second reveals the reason for the duel. The reason was a secret known only to the two men involved and Sakee until Claven died. Then Sakee was free to explain the entire story. The film weaves together horror, romance and a bit of light fantasy in an interesting and entertaining way. It was a cute little film.