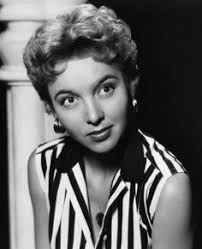 10/17/1926 to 12/5/2008
Beverly Lucy Fessenden was an American actor. She was born on in Santa Cruz, California, the daughter of Amelia Rose (née Scherer), a businesswoman, and James Atkins Fessenden, a singer and salesman. Garland grew up in Glendale, California. She was a drama student of Anita Arliss. She was a student at Glendale City College, and she honed her acting skills in summer stock theatre. She acted in little theater in Glendale then in Phoenix after her family relocated to Arizona. Garland also worked in radio and appeared scantily clad in a few risqué shorts before making her feature film debut in a supporting part in D.O.A. (1949).
Some of the science fiction movies she is well known for are; "The Neanderthal Man" 1953, "It Conquered the World" 1956, "Curucu, Beast of the Amazon" 1956, "Not of This Earth" 1957, and "The Alligator People" 1959.
Beverly married her first husband, a 20-year-old fisherman named Robert Campbell, on an impulse when she was 18 in 1945. They eloped to Las Vegas, NV, but divorced about four months later. She then married actor Richard Garland in 1951. They divorced two years later. She continued to use his last name professionally. In 1960 she married land developer Fillmore Crank. They were married until his death in 1999. She had four children.
Her third husband, Crank, built a hotel which bears her name. Originally built as a Howard Johnson's Motor Lodge in the 1970's. It became a 255 room Spanish Mission style resort called the Beverly Garland's Holiday Inn. It was renamed The Garland in 2014. After the death of her husband she continued to operate the hotel in North Hollywood with the assistance of three of her four children.
Other neat stuff: In 1983, Ms Garland received her star on the Hollywood Walk of Fame. In 2001, in recognition of her 50 years in show business, the Pacific Pioneer Broadcasters inducted her into its Hall of Fame. Ms Garland has two very significant historical television "firsts": she was television's first policewoman as the star of "Decoy" (1957), and, more importantly, the series gave her the honor of becoming the first actress to star in a television dramatic series. In the film noir "D.O.A". she is credited under the name Beverly Campbell. Ms Garland guest-starred on a number of TV game shows. She played mothers of three television daughters with hazardous lives; Laura Holt (Stephanie Zimbalist) of "Remington Steele" (1982), Amanda King (Kate Jackson) of "Scarecrow and Mrs. King" (1983) and Lois Lane (Teri Hatcher) of "Lois & Clark: The New Adventures of Superman" (1993).
Quotes: [on acting in "B" movies] You don't have to act in these pictures. All you have to do is possess a good pair of lungs. I can scream with more variations from shrill to vibrato than any other girl in pictures. [on Robert Conrad] Thank goodness we didn't have any love scenes together. I am taller than Robert Conrad, but then, who isn't? He's a tiny man.
Beverly Garland died at age 82 in her home in the Hollywood Hills, Los Angeles, California on December 5, 2008.