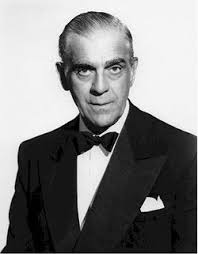 11/23/1887 to 2/2/1969
William Henry Pratt (Billy), AKA Boris Karloff was an English actor. It is unclear exactly where he got the name he would use, Boris Karloff. The youngest of nine children, he was raised by his older siblings following his mother's death. In 1909, he left university without graduating and drifted from England to Canada. He worked as a farm hand and did various odd itinerant jobs until happening upon acting.
In 1910 he married Jessie Grace Harding. They divorced in 1913. Karloff was a serial adulterer. It is unclear how many times he was actually married. Some say five, some say as many as eight. It appears that he would divorce one woman and then the next day, marry the woman he was having an affair with. It is known that he married Dorothy Stine in 1930. Daughter Sara was born on November 23rd 1938, her father's birthday. Karloff was 51.
He did stage work for a while and bit parts in whatever movie he could get. Over the years Karloff appeared in a variety of silent pictures playing characters that included Asians, Arabs, natives and a slew of villainous French-Canadians. His big break was from James Whale who hired him to play the monster in "Frankenstein" (1931) . "Frankenstein" turned Karloff into an international star. He would remain one for the rest of his life. He was 44 when it was released. He appeared in 80 films before his breakthrough role in the movie. Karloff was considered such an anonymous actor by Universal that he was not invited to the December 6, 1931 premiere.
After that he was featured in "The Mummy" 1932, "The Ghoul" 1933, "The Black Cat" 1934, "The Raven" 1935, "Bride of Frankenstein" 1935 and "Son of Frankenstein" 1939. Karloff made three films for Val Lewton at RKO: "The Body Snatcher" (1945), "Isle of the Dead" (1945) and "Bedlam" (1946). He made eight films with Bela Lugosi. Although movies were his mainstay, Karloff would from time to time return to the stage or do television and radio.
In 1950 he had his own weekly children's radio show. He played children's music, told stories and riddles. Not surprising since he is also the narrator of the cartoon "How the Grinch Stole Christmas" by Dr. Seuss done in 1966.
Other neat stuff: In 1933 he was one of the founding members of the Screen Actors Guild. He was once a celebrity contestant on The $64,000 Question. The category he chose was children's fairy tales. He won the $32,000 level and quit due to tax considerations. He has two stars on Hollywood's Walk of Fame. One for movies and one for Television. His face, in character, appears on three different US postage stamps. One as the Mummy and two as Frankenstein's Monster. His voice was the basis for future Tony the Tiger commercials by Kellogg's.
He died February 2, 1969 at the age of 81.