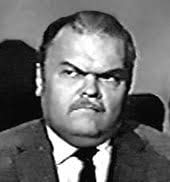 3/25/1922 to 9/24/1976
Bruno William Ve Sota was an American character actor, director and producer.
He was the second of three sons born to Lithuanian immigrants Kasmir and Eleanora VeSota. Bruno first began acting in the 7th grade while attending the Catholic parochial school St. George's. He made his stage debut as the villain in the children's play "Christopher's Orphans." At age 19 VeSota went to the Hobart Theatre in Chicago where he learned the basics on acting, make-up and direction. He made his stage directorial debut with a production of "Richard III" and went on to direct everything from the classics to light comedies. After briefly working in Lithuanian radio in the 40s Vesota did a longer stint on English-language radio. He even provided the voice of Winston Churchill for a radio production.
A native of Chicago, VeSota entered Chicago television in 1945 writing many teleplays for WBKB-TV such as an adaptation of Edgar Allan Poe's "The Tell-Tale Heart". In 1948 he moved to WGN-TV as a local version of Orson Welles; a producer, director and writer. VeSota was one of the directors of "They Stand Accused", "television's first live dramatic courtroom series", which ran on WGN-TV before it expanded to national distribution first on CBS and later on DuMont.
He was in many science fiction and horror movies; "Dementia" 1955, "The Undead" 1957, "War of the Satellites" 1958, "The Wasp Woman" 1959, "A Bucket of Blood" 1959, "Attack of the Giant Leeches" 1959, "The Devil's Hand" 1961, "The Haunted Palace" 1963 and "Attack of the Mayan Mummy" 1964.
Between 1945 and 1974 he appeared in hundreds of television episodes and over 50 feature films. He is remembered for prominent supporting roles in 15 Roger Corman films.
The plethora of TV shows he's appeared on include; "Death Valley Days", "Peter Gunn", "Leave it to Beaver", " The Rebel", 'Rawhide", "The Wild, Wild, West", "My Mother the Car", "Bonanza", "Mission Impossible", "McMillan & Wife" and "Kojak".
Other neat stuff: Alternate Names: Bruno Ve Sota | Bruno Ve Soto | Bruno Ve-Sota | Bruno VeSoto | Bruno Vesota. He has 4 director credits, 1962 "Invasion of the Star Creatures", 1958 "The Brain Eaters", 1955 "Female Jungle", 1949 "They Stand Accused" (TV Series). He has two credits as a writer; 1955 "Female Jungle" and 1949 "They Stand Accused". He has 2 credits as a producer; 1955 "Dementia" and 1949 "They Stand Accused". He was also a talented artist who drew caricatures. Bruno was a great admirer of Orson Welles and Sydney Greenstreet. One of his favorite songs was "Downtown" by Petula Clark.
Quote: Acting is a child's game. I don't mean it's childish, I mean it's a child's game. We more or less perpetuate our youth through acting. We're always acting, we're playing parts; we don't want to face the reality of being ourselves. We're the happiest when we're acting. I think any actor would say that.
He was married to Genevieve "Jebbie" VeSota (1953–1976) (his death). He had six children. Among them a set of triplets; Marie, Grace and Ellie and a set of twins; Jack and Jill.
Following a heart attack, Bruno VeSota died in Los Angeles in 1976, in at the age of 54.