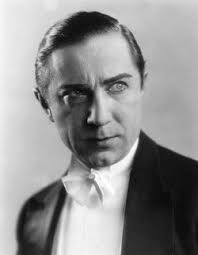 10/20/1882 to 8/16/1956
Bela Ferenc Dezso Blasko was born in Lugos, Kingdom of Hungary (now Romania). He later based his last name on his hometown. He began acting in 1901 or 1902. He moved to Budapest in 1911. During WWI he was in the Austro-Hungarian Army rising to the rank of Lieutenant. He was awarded the "Wound Medal" for wounds suffered on the Russian front. During the revolution in 1919 he was forced to flee his homeland. He went to Vienna and then Berlin, eventually traveling to New Orleans, Louisiana on a Merchant Ship.
Bela was married 5 times and had 1 child; Bela G Lugosi Jr. born 1/5/1938. Ilona Szmik (m.1917 - d.1920); Ilona von Montágh (m.1921 - d.1924); Beatrice Woodruff Weeks (m.1929 - d.1929) (they were married for only three days); Lillian Arch (m.1933 - d.1953); Hope Lininger (m.1955 - w.1956).
He became an American Citizen in 1931. He worked in theater and silent films. In 1927 he played Dracula on stage. Due to his dark looks and heavy accent he was typecast as villains in horror movies.
Bela has about 117 acting credits to his name. Some of his best known movies are; "Murders in the Rue Morgue" 1932, "White Zombie" 1932, "Island of Lost Souls" 1933, "The Raven" 1935, "The Invisible Ray" 1936, "The Phantom Creeps" 1939, "The Black Cat". Bela Lugosi never wore fangs in his performances as Count Dracula. He made 18 films with Universal, four of them as a vampire, two as Dracula. Once in "Dracula" 1931 and once in "Abbott and Costello Meet Frankenstein" 1948. He appeared in 8 movies with Boris Karloff. He appeared with Lon Chaney in 5 films.
Lugosi was contracted to appear in Dracula's Daughter (1936) at a salary of $4,000, but the original script in which the character appeared was rejected by Universal. The final script did not involve Dracula, except for an insert shot of him in his coffin, but Lugosi was paid off, earning $500 more for not appearing in Dracula's Daughter (1936) than he earned for starring in Dracula (1931).
Later in life he met a fan who gave him back his star billing in his films. Ed Wood found him living in near poverty and put him in his movies. One of the films Bela did for Ed was "Bride of the Gorilla". Although Ed's movies were crap, "Bride of the Gorilla" and "Plan 9 from Outer Space" are cult movies that are still enjoyed by rabid fans. When Bela died before Plan 9 could actually be filmed he is still credited. His final film before he died was "The Black Sleep" 1955.
Other neat stuff: He never drove a car. He was a charter member of the Screen Actors Guild. He is on two USPS stamps. He was buried in one of his capes, but not the one he wore in "Dracula". He was dependent on Morphine due to leg pain from war injuries. He died in 1956 in Los Angeles. He is quoted as saying; "I have never met a vampire personally, but I don't know what might happen tomorrow."
Bela Lugosi - rare 1955 interview