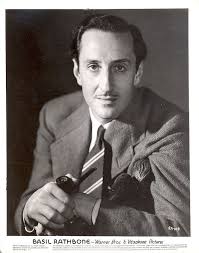 6/13/1892 to 7/21/1967
Phillip St. John Basil Rathbone is an English actor who was born in Johannesburg, South Africa. The family was forced to flee when his father was accused of being a spy for England prior to the Boer's War. During school he excelled in sports, especially fencing. Something that came in handy in Errol Flynn movies.
Basil's career started on stage in 1911 doing bit parts. In 1915 during WWI he joined the service and was second lieutenant in the Liverpool Scottish 2nd Battalion. he worked in intelligence and received the Military Cross for bravery in 1919. Eventually he gained the rank of Captain. After the war be went back to the stage. He was married twice. First to Ethel Marion Foreman from 1914 to1926. Then to Ouida Bergere from 1926 till his death. In all he had three children. A boy from his first wife Ethel. His second child with Ouida died when it was a baby. They adopted a baby girl much later.
During the 1920's he started his film career. He began his career in silent movies. Basil was once arrested in 1926 along with every other member of the cast of "The Captive", a play in which his character's wife left him for another woman. Though the charges were eventually dropped, Rathbone was very angry about the censorship because he believed that homosexuality needed to be brought into the open.
He earned two Oscar nominations in the 1930's. In 1939 he began playing Sherlock Holmes with Nigel Bruce as Dr. Watson. They did 14 films. Feeling stymied he returned to the stage in 1946. He won a Tony Award for his performance in the play "The Heiress". During the last two decades of his life he kept busy with appearing in everything from TV shows, to game shows and the occasional film.
He's played swashbucklers, kings, villains and various other robust figures. After Sherlock Holmes, it is in the horror movies that he is loved the best. "Tower of London" 1939, "Son of Frankenstein" 1939, "The Black Cat" 1941, "The Mad Doctor" 1941, "The Black Sleep" 1956, "Tales of Terror" 1962, "The Comedy of Horrors" 1964, and many more.
Basil Rathbone died suddenly of a heart attack in New York City on 21 July 1967 at the age of 75. His body was interred in a crypt in the Shrine of Memories Mausoleum at Ferncliff Cemetery in Hartsdale, New York. He has three stars on the Hollywood Walk of Fame, one for films, one for radio and one for television.
When asked about his earning his Military Cross his response was: "All I did, old man, was disguise myself as a tree--that's correct, a tree--and cross no man's land to gather a bit of information from the German lines. I have not since been called upon to play a tree."