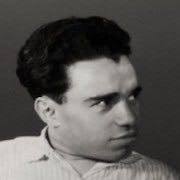 2/18/08 to 9/21/91
Angelo Salvatore Rossitto was an American actor and voice artist. Angelo was born with dwarfism. He was 2'11" tall. He was often billed as Little Angie or Moe. Angelo first started acting in silent films opposite Lon Chaney and John Barrymore. He portrayed everything from dwarfs, midgets, gnomes and pygmies as well as monsters, villains and aliens. He appeared in more than 70 films and various television shows.
Some of the films he appeared in were; "Freaks" 1932, "Tarzan the Ape Man" 1932, "Mr. Wong in Chinatown" 1939, "The Wizard of Oz" 1939, "Spooks Run Wild" 1941, "The Corpse Vanishes" 1942, "Sherlock Holmes and the Spider Woman" 1943, "The Picture of Dorian Gray" 1945, "Scared to Death" 1947, "Mesa of Lost Women" 1953, "Invasion of the Saucer Men" 1957, "Brain of Blood" 1971, "Dracula vs Frankenstein" 1971, "The Clones" 1973, "Galaxina" 1980, "Something Wicked This Way Comes" 1983 and "Mad Max Beyond Thunderdome" 1985.
Some of the television shows he appeared in were; "The Fugitive", "Gunsmoke", "The Man From U.N.C.L.E." "Baretta", "Rockford Files", "The Incredible Hulk", "Simon and Simon" and "H.R. Pufnstuf".
Angelo married Georgia A. Buresh in 1945. They divorced in 1967. He had two children and three grandchildren.
Other neat stuff: Could never make enough money to live off with his films so he ran a newspaper stand in Hollywood. Together with fellow actor Billy Barty, he was one of the founding members of Little People of America. Is featured as a character in Nathanael West's 1939 novel "The Day of the Locust". Was discovered by John Barrymore. Appeared regularly as mascot of Los Angeles Thunderbirds roller derby team in the mid and late 1960s. Rossitto appeared alongside singer/songwriter Tom Waits and Lee Kolima on the cover art of Waits' 1983 album "Swordfishtrombones", which paid homage to his performance in "Freaks".
Quote: [on Bela Lugosi] Bela . . . once told me that he wanted me in all his pictures. And he gave [producer] Sam Katzman instructions to put me in them. Lugosi told me, "Angelo, you are my greatest free advertisement. When they see you, they've got to say to themselves, 'There's the little guy who works with the monster'" . . . Lugosi was a sweetheart of a guy and he loved me.
The part Rossitto is probably best remembered for came late in his career, when he was 77 years old and almost totally blind. In the big-budget "Mad Max Beyond Thunderdome" movie he was compelling as The Master, a malevolent scientist transported around on the shoulders of a giant. It was also his favorite role.
Angelo died in 1991 in Los Angeles from complications after surgery and buried in Forest Lawn Memorial Park. He was 83.