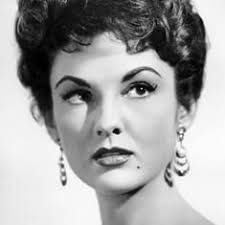 3/6/1930 to 2/27/1977
Mary Jane Hayes was an American actor born in Charleston, West Virginia. She is of Irish and French heritage. Her father was chief engineer of the Navy Department's Bureau of Ordnance. She graduated from the Calvin Coolidge High School in 1948. Hayes was a gifted concert pianist. She also taught piano for a few years. Hayes worked in television in Washington before moving to California in 1953 to begin an acting career.
Throughout her life Allison is reported to have had relationships with many men including Jack Palance, Jack Warner's aide Richard Gulley, ex-jockey Sammy Renick, Mark Hanna, photographer Bill Crespinal, costume designer Sy Devore and director Robert Gordon. It is also rumored that she dated others and although never officially married, it is alleged she had a brief marriage to a young Ford Motor Co. executive that was annulled.
Accolades; Hayes was Miss District of Columbia. She entered the Miss American pageant in 1949. She was chosen by the Peruvian ambassador to represent the United States at a festival in Lima, Peru, where she reigns as "Queen of the Atlantic". She was also a model for experimental color television broadcasts. Hayes was the "Forget-Me-Not Girl" of the DAV and the official hostess of the Washington Cherry Blossom Festival. She was crowned "Miss Dixie" at Daytona Beach, Florida and was named "Miss 7-11" at El Rancho Vegas. She also did a modest semi-nude pictorial for Gent magazine and modeled for the Frederick's of Hollywood catalog.
She began working in movies in 1954. Some of her best known horror movies were; "The Crawling Hand" 1963, "The Hypnotic Eye" 1960, "Attack of the 50 Foot Woman" 1958, "The Disembodied" 1957, "The Undead" 1957, "The Unearthly" 1957 and "The Zombies of Mora Tau" 1957.
She also did guest appearances on many Television shows such as "The Untouchables", "Perry Mason", "Rawhide" "Mike Hammer, "Bat Masterson" "Death Valley Days", "The Millionaire", "77 Sunset Strip" and the daytime drama "General Hospital".
Her acting career began to decline when she began to experience severe health problems. Eventually she was unable to walk without a cane. She was in pain to the point where it affected her personality and her ability to secure work. Her last job was a guest role on "Gomer Pyle, U.S.M.C." in 1967.
Hayes later said that the pain of her illness caused her to contemplate suicide. Doctors did not take her symptoms seriously. While reading a medical book about the metal poisoning of factory workers, she recognized the symptoms described as being similar to her own. Hayes began to question the ingredients of a calcium supplement she had been taking for a long time. She had a toxicologist test a sample of the product. Test results showed an extremely high level of lead in the pills. The toxicologist concluded that Hayes was most likely suffering from lead poisoning. She mounted a campaign to have the FDA ban the import or sale of the food supplement.
Now an invalid, Hayes moved to San Clemente, California. Her health continued to deteriorate. In 1976, she was diagnosed with leukemia and was treated regularly in La Jolla, California. While at the hospital receiving a blood transfusion, her condition unexpectedly and rapidly deteriorated. She experienced chills, flu-like symptoms and intense pain. She was transferred to the University of California Medical Center in San Diego, California. She died the following day. She was 47. Hayes was interred with her father at Holy Cross Cemetery in Culver City, California. Her mother Charlotte died 8 months later and was buried in a nearby unmarked grave. In a letter that arrived after her death, the FDA advised her that amendments were being made to the laws governing the importation of nutritional supplements, largely as a result of her situation.