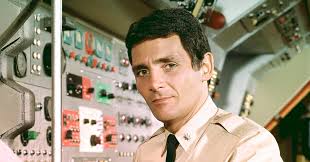 5/20/1927 to 7/18/2019
Albert David Hedison Jr. was an American film, television, and stage actor. He was born in Providence Rhode Island. He was the son of Armenian parents, Rose (Boghosian) and Albert David Hedison/Heditisian, from Harpoot (now Elazig). He discovered theater while at Brown University. He studied drama at HB Studio in Greenwich Village in New York City. He studied in New York under Sanford Meisner at The Neighborhood Playhouse and with Lee Strasberg at The Actors Studio. He did stage work off Broadway.
He was billed as Al Hedison in his early film work until 1959 when he was cast in the role of Victor Sebastian in the short-lived espionage television series "Five Fingers". NBC insisted that he change his name and he proposed his middle name and he was billed as David Hedison from then on. He was known for his role as Captain Lee Crane in Irwin Allen's television series "Voyage to the Bottom of the Sea" and as CIA agent Felix Leiter in two James Bond films "Live and Let Die" and "License to Kill".
His movies include; "The Fly" 1958, "Son of Robin Hood" 1958, "The Lost World" 1960, "Live and Let Die" 1973 and "License to Kill" 1989. Hedison starred in the TV show "Voyage to the Bottom of the Sea" from 1964-1968. He also made guest appearances on "Love Boat", "Barnaby Jones", "Wonder Woman", "Charlie's Angels", "Fantasy Island", "Hart to Hart", "T. J. Hooker", "Knight Rider", "The A Team" and "The Colby's".
From 1991 to 1996 he played Spencer Harrison on the NBC daytime series Another World. He also had a role in "The Young and the Restless" as Arthur Hendricks in 2004. He also starred in a short lived TV series called "Five Fingers" in 1959-1960.
Hedison married Bridget Mori Hedison (1968–2016). They were married until her death. She died of breast cancer. He had two children; Alexandra Hedison and Serena Rose Hedison.
He was the father-in-law of Jodie Foster. Jodie and his daughter Alexandra were married in 2014. Alexandra is also an actor. Serena is film and television producer. Hedison married for the first time at age 41.
His wife Bridget was a producer who worked on "Dynasty" and "The Colby's".
Quotes: [on why he turned down the lead in The Brady Bunch (1969)] "I turned it down because after four years of subs and monsters, who needs kids and dogs?" "Of course, there are pictures you never want to see again -- most of the films I've made like "The Fly" (1958), "The Lost World" (1960), "Marines, Let's Go" (1961). There's a whole slew of shit I avoid like the plague and when I know they'll be on TV I have a dinner party and invite my friends over so they can't see them."
Hedison died peacefully at home with his daughters in attendance. He was 92.