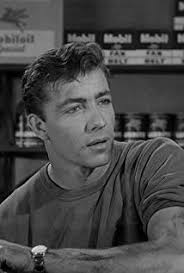 1/1/1929 to 1/7/2018
Donald E. Sullivan was born in Salt Lake City, Utah. Soon after his family moved to Idaho. He lived with his grandmother after his mother died when he was 6. In 1948 he joined the Marine Corp. He went to the University of Idaho for a time. In the 50's he went to Los Angeles with, according to Don, "three dollars in my pocket…a young guy out looking for a fortune."
In Hollywood he began dating actress Judi Meredith. He joined her acting class and was quickly spotted by visiting film director Hugo Haas who offered him the lead romantic role in his film, "Paradise Alley" (filmed 1957/8 but not released to TV until 1962).
He also appeared in at least 15 TV shows. His main cult status comes from appearing in three B-movies that are today cult classics: "The Giant Gila Monster" (1959), "The Monster of Piedras Blancas" (1959) & "Teenage Zombies" (1960). He is also well known by fans for his performance in the crime drama "The Rebel Set" in 1959.
Don reports that it took 24 hours to shoot "Teenage Zombies".
Don reported in a podcast that his first acting appearance was in the TV show "Men of Annapolis".
He wrote and sang three original songs, "I Ain't Made That Way", "The Mushroom Song" (AKA "Laugh Children Laugh" and "My Baby She Rocks" that were used in his film "The Giant Gila Monster".
In 2011 he made a return to acting in a remake of "The Giant Gila Monster" entitled "GILA!" released in 2012.
Other neat stuff: He has a Marine Corp tattoo. He was 6'2". He's written approximately 75 songs. Due to the actor strike in 1959 and other set backs Don left acting. He held a chemistry degree from the University of Idaho and, after leaving film acting in 1960, became one of the top creative cosmetic chemists in the hair industry. He worked for Redken and then started Sassoon with Vidal Sassoon.
He was married to Mia May from 1975 until his death. He has seven children.
Don died in 2018 in Los Angeles, California.