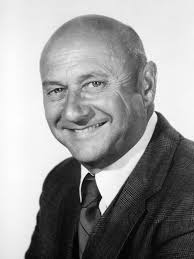 10/5/1919 to 2/2/1995
Donald Henry Pleasence was an English actor. He was born in Worksop, Nottinghamshire, England, the son of Alice Armitage and Thomas Stanley Pleasence, a railway stationmaster. He was brought up as a strict Methodist in the small village of Grimoldby, Lincolnshire. He received his formal education at Crosby Junior School, Scunthorpe and Ecclesfield Grammar School, in Sheffield, South Yorkshire. After working as the Clerk-in-Charge at Swinton railway station in South Yorkshire, he decided that he wanted to be a professional actor, taking up a placement with the Jersey Repertory Company in 1939.
In December 1939, Pleasence initially refused conscription into the British Armed Forces, registering as a conscientious objector, but changed his stance in autumn 1940, after the attacks on London by the Luftwaffe. He volunteered with the Royal Air Force. He served as aircraft wireless-operator with No. 166 Squadron in Bomber Command, with which he flew almost sixty raids against the Axis over occupied Europe. In 1944, He was shot down and captured. He was imprisoned in a German prisoner-of-war camp. Here, Pleasence produced and acted in many plays for the entertainment of his fellow captives. After the war and his release, he was discharged from the R.A.F. in 1946.
After the war, Pleasence resumed working in repertory theatre companies. He made his television debut in 1946. He made guest appearances in many television shows.
His best known films include "1984" (1956), "The Hands of Orlac" (1960), "Fantastic Voyage" (1966), "Halloween" (1978) and four of its sequels, "You Only Live Twice" (1967), "The Great Escape" (1963), "THX 1138" (1971), "Wake in Fright" (1971), "Dracula" (1979), "Escape from New York" (1981), "The Devonsville Terror" (1983), "Frankenstein's Great Aunt Tillie" (1984), and "Ten Little Indians" 1989.
Other Neat Stuff: His portrayal of Ernst Stavro Blofeld in "You Only Live Twice" (1967) was the influence of the Dr. Evil character in "Austin Powers: International Man of Mystery" (1997) and "Austin Powers: The Spy Who Shagged Me" (1999). Both Dr. Evil (Mike Myers) and Pleasence's Blofeld have a large facial scar. When Moustapha Akkad asked Donald Pleasence how many more Halloween (1978) films he was planning to make, Donald replied "I stop at twenty-two!" Shortly before his death in 1995, he was scheduled to star in a production of "King Lear" that would have featured daughters Angela Pleasence, Polly Jo Pleasence and Miranda Pleasence. There was a sort of horror picture that I did called "The Mutations" (1974). I think I did that solely for the money. I have six daughters, and they can be quite expensive, so one has to keep working and be able to pay the bills. I did get to work with Tom Baker. He's a very charming, bright man and I liked him very much. I remember that movie as a very happy time; the whole gang of us were very friendly, and that means so much when you're working together. But I surely wouldn't list that film among my proudest moments.
He was married four times; Linda Kentwood (1989-1995) (his death) Meira Shore (1970-1988) (divorced) (1 child), Josephine Crombie (1959-1970) (divorced) (2 children), Miriam Raymond (1941-1958) (divorced) (2 children). He had 5 children; Angela, Jean, Polly Jo, Lucy and Miranda Pleasence.
Pleasence died February 2, 1995 in Saint-Paul-de-Vence, Alpes-Maritimes, France from complications from heart valve replacement surgery. He was 76.