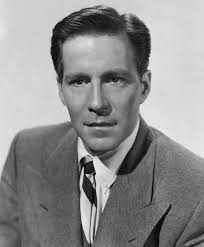 1/30/1911 to 5/2/1982
Hugh Herbert Hipple was an American actor. He worked in film, television, radio and on stage. Marlowe was born in Philadelphia, Pennsylvania. He began his stage career in the 1930s at the Pasadena Playhouse in California. In 1939 and 1940, Marlowe was in two network radio programs.
In film and television he played mostly supporting roles. He made many guest appearances in various television shows such as "Perry Mason", "The Andy Griffith Show", "Hazel", "The Man from UNCLE", "Alfred Hitchcock Presents", and "Voyage to the Bottom of the Sea".
His most noted film role was in "The Day the Earth Stood Still" 1951. Some of his other movies were "World Without End" 1956, "Earth vs the Flying Saucers" 1956, "Birdman of Alcatraz" 1962 and "Thirteen Frightened Girls" 1963.
Marlowe was also a regular on the daytime television soap opera, "Another World", the last of four actors to portray Matthews family patriarch Jim Matthews, from 1969 until his death in 1982.
An incident took place when Marlow was starring in "Anniversary Waltz" at the Alcazar Theatre in San Francisco in 1956. A few seconds after the curtain went down on the second act, his co-star Marjorie Lord slapped his face and sent him reeling. Marlowe slapped her back. Versions of the incident differ. The feud had started a week or so earlier when Marjorie Lord objected that Marlowe was "overly ardent in the love scenes." She accused him of inventing 'some quite violent embraces that weren't in the script at all. "That night something happened to provoke the fight. In newspapers Marjorie was quoted "Frequently he...well, some things just weren't in the script," and "Mr. Marlowe didn't seem to be impressed with dialogue so I slapped him." Marlowe replied "So I slapped her right back in the heat of emotion. And I told her, 'I wouldn't let President Eisenhower himself do that if I was right.' Then she said, 'You're never going to be allowed to kiss me like you did tonight any more. 'That's all there was to it. She's a wonderful person." After the incident the actors finished the performance. The following night, however, when Marlowe showed up at the stage door, it was barred to him. The actor was informed his contract had been terminated.
Hugh was married three times. Rosemary Torri (1968-1982) (his death) (1 child), K.T. Stevens (1946-1967) (divorced) (2 children) and Edith Atwater (1941-1945) (divorced).
The marriage with KT Stevens lasted until about 1966, when Hugh fell in love with his co-star Rosemary Torri. They started an affair, and in mid 1968, Rosemary got pregnant. K.T. and Hugh divorced in a quick fashion and Hugh married Rosemary right after the divorce was made final. Their son, Hugh Marlowe III, was born in February 1969.
Hugh died from a heart attack in 1982 in his Manhattan apartment in New York. He was 71.