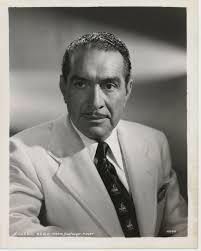 1/21/1896 to 1/24/1973
Joseph Patrick Carrol Naish was an American actor. He was born in New York City, son of Patrick Naish, who had emigrated from County Limerick, Ireland. He grew up in East Harlem, then a largely Irish neighborhood. His uncle was John Naish, Lord Chancellor of Ireland. Naish did stage work for several years before he began his film career. He was a member of Gus Edwards's vaudeville troupe of child performers. After World War I, Naish formed his own song and dance act in Paris. He joined the Merchant Marines. He was traveling the globe from Europe to Egypt to Asia, when his China-bound ship developed engine problems, leaving him in California in 1926.
Naish was a versatile character actor who often played villains and mad scientists. Naish was of Irish descent. His career spanned more than five decades. With his dark looks and mustache he played Hindus, Mexicans, Japanese, Chinese, Arabs, Jews, Italians, Poles, English, Latinos, Native Americans and South Americans. One of the few nationalities he almost never played was his own, Irish. He played an Irish character only once, General Philip Sheridan, in John Ford's 1950 film "Rio Grande". He knew nearly 20 dialects. Probably learned from his time as a Merchant Marine. He earned the moniker "Hollywood's one-man U.N.".
He received two Oscar nominations for his supporting roles in the films "Sahara" (1943) and "A Medal for Benny" (1945). He earned a Golden Globe for "A Medal for Benny". Some of his films were "Think Fast Mr. Moto" 1937, "Bulldog Drummond Comes Back" 1937, "Bulldog Drummond in Africa" 1938, "Batman" 1943, "The Monster Maker" 1944, "House of Frankenstein" 1944, "The Beast With Five Fingers" 1946, and "Dracula vs Frankenstein" 1971.
On radio, Naish starred as Luigi Basco on the popular CBS program "Life with Luigi" (1948–1953). Naish reprised the role of Luigi in a CBS television series of the same name.
He was married to Gladys Heaney from 1929 till his death. They had 1 child.
Other neat stuff: His hobbies were writing, singing, cooking, tennis and golf. He was the uncredited narrator for several films because of his rich speaking voice. Naish played Charlie Chan in the TV series "The New Adventures of Charlie Chan". The series lasted one year. His first movie was a bit part in the silent movie "What Price Glory?" 1926. He appeared in over 200 films. He was Batman's first on screen villain. He played Dr. Daka in the movie "Batman" 1943. Sometimes he spelled Carrol with one "L" and sometimes with two.
Naish retired to San Diego, CA and died of emphysema on January 24, 1973. He is interred at Calvary Cemetery in East Los Angeles, California.