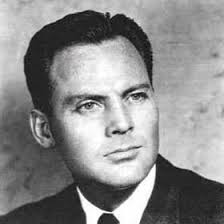 1/31/1921 to 4/7/2002
John George Agar Jr. was an American actor. John was born in Chicago. During World War II he Agar joined the Navy Air Corps. He transferred to the United States Army Air Corp. He was a sergeant at the time he left the AAF in 1946.
John married Shirley Temple in 1945. Agar and Temple had a daughter together, Linda Susan Agar, born 1948. She changed her name to Susan Black, taking the surname of her stepfather, Charles Alden Black. His marriage to Temple ended partly due to Agar's drinking and partly due to pressures from their high public profile. Temple sued for divorce on the grounds of mental cruelty in 1949. After the divorce, Agar had little contact with his daughter or with Temple.
Agar remarried in 1951 to model Loretta Barnett Combs. They tried to elope but officials refused to marry them for an hour because Agar had been drinking. They remained married for 49 years until her death in 2000. They had two sons, Martin Agar and John G. Agar, III.
In 1950 Agar was fined for reckless driving. In 1951 Agar was jailed for five months for drunk driving. He was released after 60 days on probation. In 1953 Agar was arrested for drunk driving again and was sentenced to 120 days in prison. In 1960 he was again arrested for drunk driving.
Some of his best known sci-fi and horror movies are; "The Brain from Planet Arous" 1957, "Daughter of Dr. Jekyll" 1957, "The Mole People" 1956, "Tarantula" 1955, "Revenge of the Creature" 1955, "Attack of the Puppet People" 1958, "Zontar, The Thing from Venus", "King Kong" 1976, "The Naked Monster" 2005 and many more.
Other neat stuff: In 1972 "Famous Monsters of Filmland" Magazine reported John Agar "Dead"!! Agar lived to autograph several copies of the articles. The claim that he had done a "pink film" in Denmark was a gag. He starred in "Journey to the Seventh Planet" (1962), which was shot in Denmark, by writer/producer/director Sidney W. Pink. Popular with fans of Westerns and sci-fi flicks, Agar was a staple at film conventions and autograph shows.
Quotes: "A lot of the pictures I made were not released--they escaped." "I don't resent being identified with B science fiction movies at all. Why should I? Even though they were not considered top of the line, for those people that like sci-fi, I guess they were fun. My whole feeling about working as an actor is, if I give anybody any enjoyment, I'm doing my job, and that's what counts."
Agar died on April 7, 2002, in Burbank, California from complications from emphysema. He was 81.