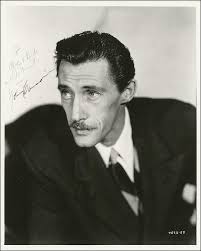 2/2/1906 to 11/27/1988
Richmond Reed Carradine was an American actor. He was married four times and had five children. Four of his sons and four of his grandchildren are actors. He was born in New York City. When he was two his father died. His mother remarried. His step-father beat him daily. Early on he was a painter and a sculptor.
In 1927 he went to Hollywood. He continued to do sketches to support himself, he did stage work until he was able to get work acting in films. With that booming voice he wanted to be a Shakespearean actor, but fortunately for us he ended up doing Westerns and Horror movies. John has been credited with being in at least 350 films. He claims to have done 70 movies before getting billing. He was using the name John Peter Richmond until 1935 when he took on the name John Carradine.
His specialty in movies was eccentric, insane or evil characters and more than one vampire. He was jailed briefly in 1953 on contempt of court charges for falling behind on his alimony payments. He played Count Dracula in four films: "House of Frankenstein" (1944), "House of Dracula" (1945), "Billy the Kid Versus Dracula" (1966) and "Nocturna" (1979). He was in eight films with Peter Lorre, seven with Vincent Price, seven with Basil Rathbone, Eleven with Lon Chaney and he appeared in eight Oscar nominated films.
A quote attributed to him is: "I've made some of the greatest films ever made--and a lot of crap, too." Some of his good stuff and crap are: "Bluebeard" 1944, "The Howling" 1981, "The Black Cat" 1934, "The Incredible Petrified World" 1960, "The Mummy's Ghost" 1944, "The Invisible Man" 1933, "Silent Night, Bloody Night" 1972, "The Black Sleep" 1956, "The House of Seven Corpses" 1974, etc., etc., etc., etc.
Some of his more exotic movies were: "Hillbillies in a Haunted House" 1967, "Sex Kittens Go to College" 1960, "Peggy Sue Got Married" 1986, "Vampire Hookers", 1978, "Superchick" 1973, and "Honey Britches" 1971, To be fair he was also in "The Grapes of Wrath" 1940, "Stagecoach" 1939, and "The Ten Commandments" 1956.
Carradine also claimed Katharine Hepburn stopped speaking to him for 20 years after one of his typically crusty remarks. By Carradine's account, when Hepburn repeatedly said she wanted to play both Mary of Scots and Queen Elizabeth in "Mary of Scotland," he asked her: "If you played both parts, how would you know which queen to upstage?" Hepburn walked off the stage.
Carradine passed away in Milan, Italy on November 27th, 1988 of natural causes. His final film, "Buried Alive" was filmed in 1988 but released in 1990, two years after his death.
John Carradine sings (?)