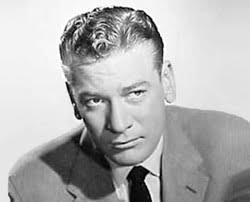 3/23/1917 to 12/22/2002
Kenneth Jesse Tobey was an American actor. He is known for his work in stage, film and television. Tobey was born in Oakland, California. He was the eldest of three sons of Jesse V. Tobey and Frances H. Tobey. Tobey was of Irish and Russian ancestry. Following his graduation from high school he entered the University of California, Berkeley intending on a career in law until he began to dabble in acting at the school's theater. His stage experience there led to a drama scholarship, a year and a half of study at New York's Neighborhood Playhouse.
During World War II, Tobey joined the Army Air Forces, serving in the Pacific as a rear gunner aboard a B-25 bomber. Throughout the 1940s he acted on Broadway and in summer stock. After appearing in a 1943 film short, "The Man of the Ferry", he made his Hollywood film debut in the 1947 Hopalong Cassidy western "Dangerous Venture". He appears in over 200 movies and television shows.
Some of his movies include; "The Thing from Another World" 1951, "The Beast from 20,000 Fathoms" 1953, "It Came from Beneath the Sea" 1955, "The Vampire" 1957, "X-15" 1961, "Stark Fear" 1962, "The Howling" 1981, "Gremlins" 1984, "Gremlins 2" 1990 and "The Naked Monster" 2005.
Joe Dante often cast him in the movies. He had small parts in Dante's movies "Gremlins", and "Gremlins 2" and "Innerspace". John Landis was also a fan and cast him in "The Howling".
(Tom Weaver) "Most of the other sci-fi heroes of the '50s were scientists or eggheads but Tobey always represented the military, and in such a hard-nosed, no-nonsense style that you knew as soon as he came on and started barking orders that the monsters had probably bitten off more than they could chew."
Before he could be cast in "The Thing from Another World" Tobey had to be approved by Howard Hughes, then the RKO Studios owner. In his interview with Weaver, Tobey recalled that one of Hughes' aides called him at 2:30 a.m., saying Hughes wanted to see him "now." When Tobey protested that he had been sleeping, the aide insisted. And rather than risk not getting the part, Tobey drove over to a small office across the street from RKO to meet Hughes. "I walked in and he stared at me, looked me up and down and said, 'OK,' " Tobey recalled.
He appears in scores of television shows such as; "Perry Mason", "Star Trek", "Deep Space Nine", "Adam 12", "Emergency", and "Night Court". In 1957 he had his own series "Whirlybirds". His character was a helicopter pilot.
He was married twice first to June Hutton (1968-1972) then to Violet M. Coglan (Penny Parker (1951 - ?) He has one child, Tina, by his first wife.
Tobey died after a lengthy illness at Rancho Mirage, California hospital at age 85.