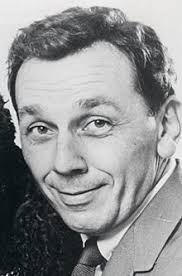 1/25/1918 to 6/30/87
Frances King Donovan was born to vaudevillian parents who traveled the whole country. By the time he was in his teens he had landed a part at the Butler Davenport Theater on 63rd Street in New York City. During the 1940s, he toured in repertory with the Jitney Players, founded by Richard Aldrich as a summer stock group. Donovan also appeared with the U.S.O. in "The Male Animal' and trod the boards for two years with the Hendrickson Shakespearean Company. He also appeared on Broadway off and on. King was an American film, stage, and television actor, as well as a film and television director.
Donovan was in demand for a variety of modest featured roles from playing conventional characters to shifty looking heavies. Up to about 1954 he was showing up in one film after another (over 10 appearances per year), as a press agent in "Singin' in the Rain" (1952) to two featured parts as a scientist in the same year release of two classic sci-fi films, Dr. Dan Forbes in "The Magnetic Monster" (1953) and Dr. Ingersoll in "The Beast from 20,000 Fathoms" (1953). He was also James O'Herli in "Riders to the Stars" in 1954. His most memorable role was as the pipe smoking writer Jack Belicec in the 1956 version of "Invasion of the Body Snatchers".
In 1953 and 1954 Donovan was showing up in various TV playhouse theater programs and a variety of early episodic TV fare and good featured roles that demonstrated his acting depth as comedian and dramatic character and always with a methodical intelligence.
Notable television roles include freeloading relative Jake Clampett on two episodes of "The Beverly Hillbillies", Roger Burns on eight episodes of "The George Burns and Gracie Allen Show", Harvey Helm on seventeen episodes of "The Bob Cumming Show", and a myriad of other shows throughout the years.
In 1963 Donovan directed the film "Promises! Promises!" which received attention as the first Hollywood sound film to feature a mainstream film star (Jayne Mansfield) nude. Later the same year Donovan directed two episodes of "Grindl", which starred his wife Imogene Coca and two more the next year.
King was married twice. His first wife was Anne Catherine Thomas. They married in 1941 and divorced in 1959. Donovan remained a bachelor until he married Broadway and TV comedy entertainer and actress Imogene Coca in 1960. She was 10 years his senior. Their roots were similar with vaudevillian parents and together they did some 30 shows, including a national tour of the musical "Once Upon a Mattress". His last Broadway performance was in a production of "Morning's at Seven", a revival of Paul Osborn's play about an unorthodox American family which he reprised for TV in 1982. He and Coca performed in "On the Twentieth Century", a countrywide tour that lasted nine months shortly before he became ill. He had 3 children.
King died of cancer in 1987 at age 69 in the Connecticut Hospice in Branford, Connecticut.