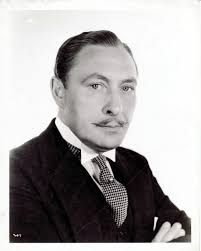 3/1/1885 to 4/22/1946
Lionel Alfred William Atwill was an English actor. After a brief but successful career on Broadway Atwill began working in silent films. His authoritative voice made him perfect for the advent of sound in movies. He was well suited to play mad scientists, police inspectors and military officers, maybe a burgomaster or two. In the 30'a he was popular as a supporting actor and would do as many as six or seven films a year. He appeared in two Sherlock Holmes films with Basil Rathbone, another two with the Ritz Brothers and two Charlie Chan movies. Film credits include "The Mystery of the Wax Museum" (1932), "Doctor X" (1933) "The Vampire Bat" (1933), "The Secret of the Blue Room" 1933, "Murders in the Zoo" (1933), "The Sphinx" 1933, and five of the Frankenstein franchise movies.
He played his parts with elegance and relish. Ever the dramatic stage performer, even on film. If he was a villain, he was the worst ever. If he was a mad scientist, he was absolutely insane. If he was a police inspector, he solved the case. Whether star or character actor he was good at what he did.
Atwill was married four times. His first wife was Phyllis Ralph; they were married in 1913 and divorced in 1919. In 1941 their son, John Arthur Atwill (born 1914), he was killed in action aged 26. Atwill married the actress Elsie Mackay in 1920. They divorced in 1928. He married Louise Cromwell Brooks in 1930, after her divorce from Douglas MacArthur; they divorced in 1943. Atwill married Paula Pruter in 1944, and their marriage continued until his death. Their son, Lionel Anthony Atwill, is a retired writer.
Atwill was in the gossip columns a lot. One of his mansions burned to the ground and two on the East Coast washed into the sea. His first marriage ended in scandal in 1930 when his wife was caught in bed with another man. His second marriage was to Douglas MacArthur's ex-wife Henrietta Louise Cromwell Brook MacArthur. She was a flamboyant socialite. They separated in 1939.
Reportedly during a Christmas party in 1940 Atwill was showing stag films which resulted in an orgy with some under age people present. There was also a report of rape from an underage person. The details are fuzzy. In 1941 he was brought before a grand jury on morals charges. He lied to the grand jury. This resulted in a felony perjury charge and he was sentenced to five years probation. In 1943 he was the victim of a shakedown attempt. Atwill came clean. His sentence was terminated and his record was expunged.
Unfortunately the Hays Code was now in full force and Atwill was prevented from working at the big movie companies. Thus began his working for the Poverty Row studio the Producers Releasing Corportation (PRC). He was in the middle of shooting "Lost City of the Jungle", when he died. Final scenes were shot using a double. He died of pneumonia as a result of lung cancer in 1946.
Personal quote: "There is something about horror that is horribly compelling. Is it because we see our possible selves in these dark mirrors?"