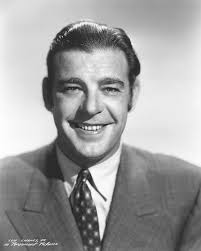 2/10/06 to 7/12/73
Creighton Tull Chaney was an American actor. He was the son of silent film star Lon Chaney. He was born while his parents were on tour. He was on stage with them when he was six months old. He worked mostly menial jobs to support himself. At various times he worked as a plumber, a meatcutter's apprentice, a metal worker, and a farm worker. Always, however, there was the desire to follow in his father's footsteps. He studied makeup at his father's side, learning many of the techniques that had made his father famous. And he took stage roles in stock companies. His career was influenced by his father.
Chaney did not enter into acting until the death of his father, who adamantly discouraged his son from showbiz and prodded him toward a more practical career like plumbing. His first appearances were under his real name. He played number of supporting parts before being prodded into changing his name to Lon Chaney Jr. as a marketing ploy. Chaney was uncomfortable with the ploy and always hated the "Jr". But he was also aware that the famous name could help his career, and so he kept it. He played lots of small bit parts until 1939 when he was given the role of the simple-minded Lennie in the film adaptation of John Steinbeck's "Of Mice and Men" (1939). His performance was one of the two roles in which he will always be remembered. The other role came within the next year when Universal cast Chaney as Lawrence Talbot in "The Wolf Man" (1941). "The Wolf Man" spawned a bunch of horror movies and stardom for Chaney. He was the only person to have played all four of the classic movie monsters: "The Wolf Man" (1941) (Laurence Talbot/The Wolf Man); "The Ghost of Frankenstein" (1942) (Frankenstein's Monster); "The Mummy's Tomb" (1942) (Kharis, the mummy) and "Son of Dracula" (1943) (Count Anthony Alucard, Dracula's son). By the 1950s, he was established as a star in low-budget horror films and as a reliable character actor in some big-budget films such as "High Noon" (1952).
Chaney said that the dogs used to double as wolves in "The Wolf Man" were not up to the task, refusing to wrestle with him on camera. So the actor suggested using Moose, a former police dog in the possession of a security guard at Universal Studios. Moose got the job done, not only wrestling with Chaney convincingly, but breaking bones in his hand with its massive jaws. Ever respectful of anyone capable of giving him a good fight, Chaney fell in love with Moose and promptly bought the dog from the security guard.
The final time Chaney portrayed a lycanthrope on film was not a Universal picture but in a Mexican flick titled "Face of the Screaming Werewolf" (1964) in which he played a mummified werewolf.
He was married twice: Dorothy Marie Hinckley 1926-1937 and Patsy Beck 1937-1973. He had two children, Lon Ralph born July 3, 1928 and Ronald Creighton born March 18, 1930.
In his later years he had trouble with illness, a result of alcoholism. Lon Chaney died of heart failure at age 67 on July 12, 1973, in San Clemente, California. His body was donated for medical research.
Lon Chaney Jr. sings (?)