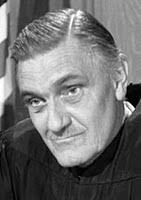 8/28/1897 to 9/2/1964
Steven Morris Nussbaum was an American actor. He was born in Danville, Illinois. His nickname was Morrie. Ankrum was a graduate of the University Of Southern California School Of Law. He was an attorney and an economics professor before switching careers and joining the theater.
He was a veteran stage actor by the time he entered the film industry in the 1930s. His film career spanned 1933-65, during which time he played in 276 films and TV shows. Ankrum spent much time in westerns, playing everything from Indian chiefs to crooked bankers.
He was cast in many other films throughout the '30s, '40s and '50s, varying from small appearances to co-starring roles. He can be seen in low-budget "B" pictures and big-budget blockbusters alike. It was in the 1950s, though, that he hit his stride in the science-fiction genre, where his gruff, no-nonsense demeanor and authoritative voice perfectly fit the role of a Military Officer.
Some of his most known sci-fi/horror movies are "Rocketship X-M" 1950, "Flight to Mars" 1951, "Red Planet Mars" 1952, "Invaders from Mars" 1953, "Earth vs the Flying Saucers" 1956, "Kronos" 1957, "The Giant Claw" 1957, "The Beginning of the End", 1957, "Giant from the Unknown" 1958, "How to Make a Monster" 1958, "Curse of the Faceless Man" 1958, "X: The Man With the X-Ray Eyes" 1963, and more.
Later in his career he did much TV work, in such series as "Bonanza" (1959), "The Rifleman" (1958), "Rawhide" (1959), "Cheyenne" (1955), "Gunsmoke" (1955), "The 20th Century-Fox Hour" (1955), "Maverick" (1957), "Have Gun - Will Travel" (1957), "Sea Hunt" (1958), and over a dozen more.
He made 22 appearances on the "Perry Mason" TV series.
Morris was married twice. First to Gillian Gilbert, then he married Joan Wheeler in 1935. They were married until his death in 1964. He had two children. His son David Ankrum is an actor.
On September 2, 1964, Ankrum died of trichinosis in Pasadena, California. He was buried in Spring Hill Cemetery and Mausoleum in Danville, IL.