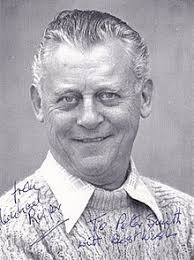 1/27/1913 to 6/28/2000
Michael George Ripper was an English character actor born in Portsmouth, Hampshire England. As a child, Ripper was encouraged by his speech therapist father to participate in diction and public speaking competitions. At 16, Ripper won a scholarship to London's Central School of Speech Training and Dramatic Arts.
He began his film career in 'quota quickies' in the 1930s and until the late 1950s was virtually unknown and was seldom credited. Ripper became a mainstay in Hammer Film Productions playing supporting character roles: coachmen, peasants, tavern keepers, pirates and sidekicks. He appeared in over 33 Hammer films. More than any other performer. These included "The Camp on Blood Island" (1958), "The Revenge of Frankenstein" (1958), "The Mummy" (1959), "The Brides of Dracula" (1960), "Captain Clegg" (1962), "The Scarlet Blade" (1963), "The Reptile" (1966), "The Plague of the Zombies" (1966) and "The Mummy's Shroud" (1967). Occasionally he was disguised almost beyond recognition, yet his raspy voice remained unmistakable. Some of his parts were little better than glorified bits (as in "The Curse of the Werewolf"), but his role for Hammer Films was a significant supporting part as a landlord in "Scars of Dracula" in 1970. (His very last Hammer role was as a railway worker in the atypical comedy "That's Your Funeral" two years later.)
Other character roles were in; "Legend of the Werewolf" 1975, "The Creeping Flesh" 1973, "Taste the Blood of Dracula" 1970, "Dracula has risen from the Grave" 1968, "The Lost Continent" 1968, "Torture Garden" 1967, "The Deadly Bees" 1966, "Rasputin the Mad Monk", "Quatermass 2" and "X the Unknown" 1956 and many, many more.
His hobbies included photography, woodworking and classical music. In the film "What a Crazy World" he's credited as 'The Common man' but plays 6 parts - Employment exchange clerk, passenger on bus, amusement arcade attendant, road sweeper, park keeper and man in cinema. Derek Pykett is the author of Michel's biography called "Michael Ripper Unmasked" by Hemlock Books Limited, Midnight Marquee Press. He has more than 234 acting credits to his name.
Michael was married three times; Jean Bramley (1934–1947), Catherine Finn (1972–1978), Cecelia Doidge (1995–2000). He has two children.
In the early 1950s, Ripper, once a heavy smoker, developed a thyroid condition for which he had to have an operation. "When I came out of it, I could only talk in a whisper," he recalled. "It got a little better, of course, but I didn't really sound like a human being - so all I could do was horror."
Memory problems made life difficult for Ripper in the last years of his life, but didn't prevent him from attending several horror conventions on both sides of the Atlantic, appearing alongside Christopher Lee and Ingrid Pitt to the delight of his legions of fans.
After some years of increasingly failing health, Michael Ripper passed away on the 28th of June, 2000 aged 87, leaving behind a legacy of film roles which helped define the iconic brand that was Hammer Horror.