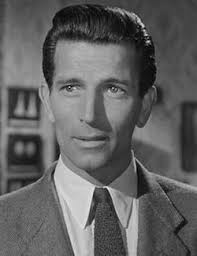 8/25/1909 to 6/10/1971
Eric Alexander Rennie was an English film, television and stage actor. He was born in Idle near Bradford, West Riding of Yorkshire. Rennie had two brothers and one sister. His father was James Rennie and his mother was Amelia. He was Scottish on his father's side and English on his mother's side. He had an older brother William, younger brother Gordon and his sister's name was Edith. His father owned the family wool business which had operated for over 150 years. He was educated at the Leys School, Cambridge.
He didn't like working in the family mill so he tried several other jobs before deciding at the age of 26 that he wanted to be an actor. He was a car salesman; however, he never sold a car. He also swept floors in his uncle's factory. He played some bit parts and did stand-ins for awhile. During WWII he enlisted in the RAF volunteer reserve. After his service he resumed his film career.
He is perhaps best remembered (at least for sci-fi fans) for his starring role as the alien Klaatu in the science fiction film "The Day the Earth Stood Still" (1951). That one role made him a well known entity in the world of science fiction. He was originally cast because he was a virtual unknown to American audiences at the time. Irwin Allen cast him as adventurer Lord John Roxton in an adaptation of Sir Arthur Conan Doyle's "The Lost World" (1960), a tale of a jungle expedition that finds prehistoric monsters in South America; the film also starred Claude Rains, Jill St. John and Richard Haydn.
Some "Day the Earth Stood Still" Trivia; Klaatu was born in 1873. He establishes that he traveled to planet Earth from 250 million miles away. 250 million miles is equivalent to 402 million kilometers and 0.00004 light-years. It would locate Klaatu's home in a point between Mars and Jupiter, inside the known Solar system.
In a career spanning more than 30 years, Rennie appeared in more than 50 films and in many American television shows. Rennie was cast as Harry Lime in "The Third Man" (1959–65). He also made guest appearances in "Lost in Space", "The Time Tunnel", "Batman", "The Invaders", "I Spy", "Perry Mason" and "The Man from UNCLE.
Rennie was married twice; First to Joan England (1938–1945) then to actress Margaret (Maggie) McGrath (1947–1960). Both marriages ended in divorce. When divorcing his second wife, she fainted on the stand during cross-examination. Rennie revealed he had been separated from her since November 1953. He had two sons. One with Joan; David Rennie, who is an English circuit judge in Lewes, Sussex, England and another son, John Marshall, (born 1944) with his longtime friend and mistress, Renée (née Gilbert).
In 1954 while Rennie was on location his mother-in-law, (from second wife Maggie) who had been staying in his flat while hers was being painted, was strangled with nylon hosiery. The killer was never caught although suspicions fell to a serial killer who had lived in the area.
Michael Rennie died suddenly of an aortic aneurysm brought on by emphysema . After his cremation, his ashes were interred in Harlow Hill Cemetery, Harrogate.