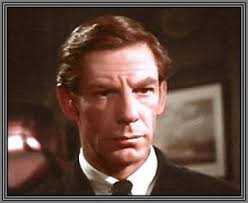 Michael Gough 11/23/1916 to 3/17/2011
Francis Michael Gough was an English character actor. Gough was born in Kuala Lumpur, Federated Malay States (now Malaysia). His father was a rubber planter. He was the son of English parents Francis Berkeley Gough and Frances Atkins (née Bailie). He was educated at Rose Hill School, Tunbridge Wells, and at Durham School. He moved on to Wye Agricultural College, which he left to go to the Old Vic. During World War II Gough was a conscientious objector. He served in the Non-Combatant Corps as a member of 6 Northern Company, in Liverpool.
Gough made over 150 film, television and stage appearances. He is primarily known for his association with the Hammer Horror Films and for his portrayal of the butler Alfred Pennyworth in the first "Batman" movies series. Some of his films include; "Horror of Dracula" 1958, "Horrors of the Black Museum" 1959, "Konga" 1961, "Black Zoo" 1963, "Dr. Terror's House of Horrors" 1965, "The Skull" 1965, "They Came from Beyond Space", 1967, "Berserk" 1967, "The Crimson Cult" 1968, "Trog" 1970, "Crucible of Horror" 1971, "The Boys From Brazil" 1978, "The Serpent and the Rainbow" 1988. "Batman" 1989, "Batman Returns" 1992, "Batman Forever" 1995, "Batman and Robin" 1997 and "Corpse Bride" 2005.
In the television series "Doctor Who", he played the Celestial Toymaker, who, despite appearing only once, opposite William Hartnell in 1965, became one of the program's most iconic villains. A bored eternal, dressed as a Chinese mandarin, he lured unwitting space travelers to his domain to play apparently innocent parlor games with lethal consequences. The character proved memorable enough for Gough to be asked to reprise it in 1986, which he was happy to do, until Michael Grade decided to rest the show. In the interim, Gough had also played a devious old friend of the Doctor – by now, Peter Davison – in the 1983 story Arc of Infinity. He played Councilor Hedin.
Tim Burton gave Gough one of his last roles, at a point when he had virtually retired from acting. The director was anxious to lure him out of semi-retirement to play a crooked lawyer in his supernatural movie "Sleepy Hollow" (1999). "I'm too old, I can't learn lines any more," Gough protested. "So we'll cut them," countered Burton, who later employed Gough's menacingly silky tones in "Corpse Bride" and "Alice In Wonderland".
Gough won Broadway's 1979 Tony Award as Best Actor (Featured Role – Play) for "Bedroom Farce". In 1957 he won a BAFTA TV Award for "The Go-Between". Gough was added in "In Memoriam" at the 18th Screen Actors Guild Awards.
Gough was married four times; Henrietta Gough 1981 - 2011 (his death) Anneke Wills 1965 - 1979 (divorced) Anne Leon 1950 - 1962 (divorced) Diana Graves 1940 - ? (divorced). He had four children; two sons, Simon and Jasper and two daughters, Emma and Polly. One daughter, Polly, was adopted from his wife Anneke. She died at age 19 in a car accident. Her biological father was Anthony Newley, but Gough had adopted her and been her father since her birth. She never knew that Newley was her biological father. His third wife Anneke Wills portrayed the Doctor's companion Polly in the television series.
Gough died of pneumonia March 17 2011 at his home in Salisbury, Wiltshire, England at the age of 94. He was cremated and his ashes were scattered in the English Channel.