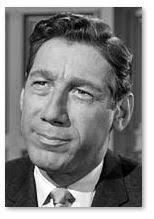 Michael Fox 2/27/21 to 6/01/96
Myron Melvin Fox was an American character actor. He was born in Yonkers, New York. He was the youngest of four children and the third son. He did school plays while in grade school. Michael had planned on becoming a history teacher; instead he did "something as foreign to my nature as one could think of". He became a "boomer". A migratory railroad worker. He also worked as a brakeman with various lines.
In the mid 40's he became interested in acting. He did several small theater plays. While acting and directing in a Players Ring production of "Home of the Brave" he was seen by Harry Sauber. Harry introduced him to Sam Katzman. Sam gave him his first role.
He has been in dozens of movies and television shows playing everything from rabbis to mad scientists, but he is most famous for playing doctors and coroners. Especially on the TV drama "Perry Mason".
Some of his films include; "The Magnetic Monster" 1953, "The Lost Planet" 1953, "The Beast From 20,000 Fathoms" 1953, "Riders to the Stars" 1954, "GOG" 1954, "Conquest of Space" 1955, "War of the Satellites" 1958 and "Young Frankenstein" 1974.
Some of his television appearances include; "Mission Impossible", "Rockford Files", "Twilight Zone", "My Favorite Martian", "Burke's Law", "Batman", "Voyage to the Bottom of the Sea", "Lost in Space", "The Wild, Wild West", "Cagney and Lacey", "ER" and "NYPD Blue".
Michael also had a recurring role as Saul Feinberg on the CBS soap opera "The Bold and the Beautiful". He was on the show for eight years.
The Dr. Fox effect: Fox also made an important contribution to the scholarly field of education, as the actor who portrayed "Dr. Myron L. Fox" in a study that would give rise to the Dr. Fox effect, and also participated in the generation of additional materials in at least one follow-up study. In the initial demonstration of this effect, Fox delivered an engaging and expressive lecture that contained no meaningful content, and yet, the audience rated Fox just as highly as a genuine professor's lecture. The Dr. Fox effect has been often cited as a critique of the validity of student evaluations of teaching.
He married Hannah Jacobson January 26, 1947. She was an actress and they met while acting in the play "The Dybbuk". They were married until his death. He had two children a daughter, Jennifer Fox, of Los Angeles, and a son, David, of Philadelphia.
Fox died of pneumonia June 1, 1996, in Woodland Hills, Los Angeles, California. He was 75.