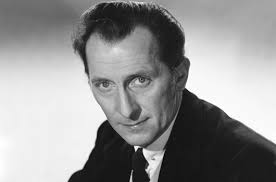 5/26/13 to 8/11/94
Peter Wilton Cushing was an English actor. He was born in Kenley, Surrey, England. He was attracted to acting at an early age. His favorite aunt was a stage actor. He was a government surveyor's assistant in Surrey. He also dabbled in local amateur theater. He attended the Guildhall School of Music and Drama on scholarship. He also performed in repertory theater in Worthing. He head for Hollywood, where he made his film debut in "The Man in the Iron Mask" (1939). He appeared in a few other movies before he returned to England. During World War II he joined the Entertainment National Services Association.
After the war, he performed in the West End and had his big break appearing with Laurence Olivier in "Hamlet" (1948). During the 1950s, Cushing did a lot of British television. He appeared in numerous teleplays. The end of the decade is when he began his legendary association with Hammer Film Productions and in its remakes of the 1930s Universal horror classics. His first Hammer roles included Dr. Frankenstein in "The Curse of Frankenstein" (1957), Dr. Van Helsing in "Horror of Dracula" (1958), and Sherlock Holmes in "The Hound of the Baskervilles" (1959).
Over the next twenty years Cushing continued playing various roles in horror movies for Hammer and for other production companies such as Amicus Productions. He also did two Dr. Who films, "Dr. Who and the Daleks" (1965) and "Daleks' Invasion Earth 2150 A.D. "(1966). In 1977 he played Grand Moff Tarkin in "Star Wars: Episode IV - A New Hope" (1977). He has 131 acting credits to him name. He turned down Donald Pleasence's role as Dr. Sam Loomis in "Halloween" (1978).
He was a vegetarian. He wrote two autobiographies. He wrote and illustrated a children's book "The Bois Saga". His hobbies were bird watching and painting. He was an artist, skilled in drawing and painting; as a young struggling actor, he supplemented his income by selling scarves that he hand-painted and later, as an established actor, had showings of his water colors.
He and his best friend Christopher Lee were once asked to leave a theater showing a Sylvester and Tweety cartoon, because they were laughing hysterically.
Other neat stuff: His co-stars and colleagues often spoke of his politeness, charm, old-fashioned manners and sense of humor. In 1989, he was made an Officer of the Order of the British Empire in recognition of his contributions to the acting profession in Britain and worldwide. He married Violet Helen Beck in 1943. They were married until her death in 1971. He never married again. His wife's death affected him both mentally and physically. In his role in Dracula A.D. 1972, Cushing had originally been cast as the father of Stephanie Beacham's character. He had aged so visibly and lost so much weight that the script was hastily re-written to make him her grandfather. It was done again in his last Dracula film for Hammer, "The Satanic Rites of Dracula" (1973). In a silent tribute to Helen, a shot of Van Helsing's desk includes a photograph of her.
Peter Cushing died at age 81 of prostate cancer.