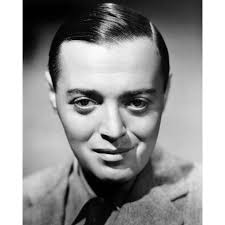 6/26/1904 to 3/23/1964
Laszlo Lowenstein was a Hungarian-American actor. His mother died when he was four. His father remarried his wife's best friend; however, he never got along with his step-mother. He went to elementary and secondary schools in Vienna, Austria. He began his stage career in Vienna before moving to Germany. As a youth, he ran away from home, worked as a bank clerk and, after stage training in Vienna, made his acting debut in Zurich. He remained unknown, traveling for several years and acting in Germany, Austria and Switzerland.
He caused a sensation in the German film "M" 1931directed by Fritz Lang. He portrayed a child serial killer. Lorre was of Jewish decent. He fled Germany when Hitler came to power going to Paris and then London. His first English language film was "The Man Who Knew Too Much" by Alfred Hitchcock in 1934. In 1935 he went to Hollywood.
He did a series of Mr. Moto movies during the late 1930s. From 1941 to 1946 he mainly worked for Warner Bros. He appeared with Sydney Greenstreet as Joel Cairo in "The Maltese Falcon" (1941), he then was in "Casablanca" (1942) and seven other films during the early 1940s.
Lorre was married three times. Celia Lovsky 1934-1945, Kaaren Verne 1945-1950, and Ann Marie Brenning 1953-1964. He has one child Catharine. His daughter made headlines after serial killer Kenneth Bianchi confessed to police investigators that he and his cousin and fellow "Hillside Strangler" Angelo Buono, posing as undercover police officers, had stopped her in 1977 with the intent of abduction and murder. They let her go on learning that she was the daughter of Peter Lorre. It was after Bianchi was arrested that Catharine realized whom she had met.
Other neat stuff: According to Vincent Price, when he and Peter Lorre went to view Bela Lugosi's body during Bela's funeral, Lorre, upon seeing Lugosi dressed in his famous Dracula cape, quipped, "Do you think we should drive a stake through his heart just in case?". Lorre was the very first James Bond villain; he played Le Chiffre in a 1954 version of Casino Royale on the television series "Climax!" (1954). His image from "M" (1931) was unwittingly used on the German poster for the anti-Semitic propaganda film, "The Eternal Jew" (1940), as an example of a typical Jew. During the House Un-American Activities Committee's investigation of Communist infiltration of Hollywood during the 1940s and 1950s, Lorre was interviewed by investigators and asked to name anyone suspicious he had met since coming to the United States. He responded by giving them a list of everyone he knew. Lorre was the inspiration for the ghost mascot of the General Mills cereal, Boo Berry. He spoke English, French, German and Hungarian. Peter Lorre appeared in two science fiction submarine movies, "20,000 Leagues Under the Sea" (1954) and "Voyage to the Bottom of the Sea" (1961).
He died from a stroke in 1964. Nicknames Lazzy, Europe's One Man Chamber of Horrors, The Master of Horror.