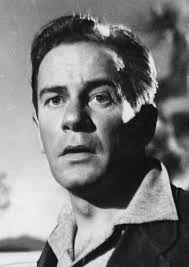 4/29/1912 to 11/25/1977
Richard Dutoit Carlson was an American actor, television and film director, and screenwriter. The son of a Danish-born lawyer, Carlson was born in Albert Lea, Minnesota. He was high School Valedictorian - Washburn High School, Minneapolis, Minnesota, Class of 1929. He majored in drama at the University of Minnesota, where he wrote and directed plays and was a member of Phi Beta Kappa. He graduated cum laude with a Master of Arts degree. Carlson then opened his own repertory theater in Saint Paul, Minnesota. When the theater failed, Carlson moved to New York City.
In 1935, Carlson made his acting debut on Broadway. In 1937, he wrote and staged the play "Western Waters", which ran for only seven performances. Carlson then moved to California, where he joined the Pasadena Playhouse. Carlson's first film role was in the 1938. He returned to Broadway in 1939. Metro-Goldwyn-Mayer cast him in two films in 1939. Carlson appeared in several films for MGM in the early 1940s.
During World War II, Carlson served in the United States Navy. When he returned to Hollywood, he had few offers of employment, and turned to writing to supplement his income. While shooting in Africa, Carlson wrote a series of articles for The Saturday Evening Post, collectively titled "Diary of a Hollywood Safari". Carlson wrote episodes of Schlitz Playhouse and Kraft Theatre.
He began to appear regularly on television shows such as "The Prudential Family Playhouse", "The Ford Theatre Hour", "Cameo Theatre", "Lights Out", "Celanese Theatre", "Robert Montgomery Presents: Hollywood Opening Night", and "The Ford Television Theatre".
The bulk of the science fiction movies he made were in 1953 and 1954; "The Magnetic Monster" (1953), "The Maze" (1953), "It Came from Outer Space" (1953) "The Creature from the Black Lagoon" (1954) and "Riders to the Stars" 1954, which he also directed. Later he co-starred in "The Valley of Gwangi" (1968). He directed several movies.
Carlson's acting experience was utilized by the U.S. military as he made several service training films. In one of these, produced for the U.S. Army, entitled: "For God and Country", he appeared with Ronald Reagan. For the Dudley Pictures Corporation, Carlson directed, and was featured in, "Flight to California," a short 1952 promotional film for TWA. His wife, Mona Carlson, also appeared in the film.
Carlson married Mona Carlson in 1939. They were married until his death in 1977. They had two children.
Carlson died of a cerebral hemorrhage at the age of 65 on November 25, 1977, in Encino, California. He was buried in Los Angeles National Cemetery in West Los Angeles. For his contribution to the television industry, Carlson has a star on the Hollywood Walk of Fame.
Richard Carlson sings