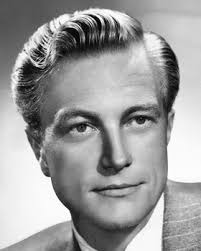 3/27/1914 to 10/11/1998
Louis Albert Heindrich Denninger, Jr. was an American actor. He was born in Poughkeepsie, New York. When he was 18 months old, his family moved to Los Angeles. He attended Manual Arts College and earned a Master of Business Administration degree from Woodbury Business College in Los Angeles.
He was originally planning to take over his father's garment manufacturing business, but he developed an interest in acting. Denning enlisted in the United States Navy during World War II and served on submarines. Denning worked in radio and starred with Lucille Ball in CBS's "My Favorite Husband", which led to a role on CBS television's series adaptation of "Mr. and Mrs. North". He worked in both Television and in films.
From 1937 to 1942 Denning made over 50 films for Paramount, many of them fleeting bit roles. He looked good in a sweater and could often be seen as a college boy or football player in films. In all he has over 112 acting credits to his name.
Some of his films were; "Unknown Island" 1948, "Creature from the Black Lagoon" 1954, "Target Earth" 1954, "Creature With the Atom Brain" 1955, "Day the World Ended" 1955, "The Black Scorpion" 1957 and "Twice Told Tales" 1963.
Other neat stuff: At a Universal function, the friction between Lon Chaney Jr. and Denning reached a point where Denning threw his sundae into Chaney's face and Chaney had to be restrained from throwing hot coffee into Denning's. After the war, Denning could not get an acting job for 18 months. "We lived in a trailer on the ocean front, and I put down a hundred lobster traps. We ate and sold lobsters and made a good living. Later we realized that was the happiest 18 months of our lives." While living in Hawaii he became an executive of the Boy Scouts of America. He played the governor in the TV series "Hawaii 50" for 12 years. He had a history of emphysema. Denning won a Warner Bros. screen test through a radio contest, "Do You Want to Be an Actor?" He resembled Errol Flynn, who then reigned on the Warner lot, so the studio would not sign him. The screen test, however, got Denning an agent, who helped the him obtain a seven-year contract with Paramount. Denning made his film debut in "Hold 'em Navy."
In 1942, Denning married 1940s horror film queen Evelyn Ankers (co-star of "The Wolf Man", "Ghost of Frankenstein" and "Son of Dracula"), who retired from films at the age of 32 after they were married. He and Ankers had a daughter, Diana Denning (later Dwyer). After Ankers' death from cancer in 1985, Denning was remarried to Patricia Leffingwell. They were married until Denning's death.
Denning died of a heart attack at the age of 84 on October 11, 1998 while visiting relatives in Southern California. Denning and Ankers are buried at Makawao Veterans' Cemetery in Makawao, Hawaii.