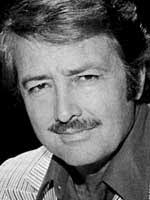 6/1/1920 to 6/11/2005
Robert Irby Clarke was an American actor. Clarke was born and raised in Oklahoma City, Oklahoma. Clarke knew at an early age that he wanted to be an actor however, he suffered from stage fright. He went to Kemper Military School in Boonville, Missouri. He dropped out after his asthma prevented him from serving in WWII.
He then went to the University of Wisconsin and the University of Oklahoma. He acted in radio and stage plays. He never graduated. He hitchhiked to California instead. He managed to get a contract with RKO. When they dropped him three years later he decided to do some freelancing. Clarke appeared in movies in the 40's, 50's and 60's, many of them horror and science fiction. At first he did a lot of bit parts. He had bit parts in Val Lewton and RKO's "Bedlam" and "The Body Snatcher".
Some of his movies include; "The Man From Planet X" 1951, "Captive Women" 1952, "The Astounding She Monster" 1957, "The Hideous Sun Demon" 1958, "The Incredible Petrified World" 1959, "Beyond the Time Barrier" 1960, and "Frankenstein Island" 1981.
Clarke also did guest appearances in many TV shows including; "Dynasty", "Falcon Crest", "Dallas", "Fantasy Island", "Hawaii five-O", "Adam-12", "Dragnet", "Ripcord", "Sea Hunt", "Perry Mason", "Wagon Trail", "Sky King" and "Lassie. He also appeared on TV and on tour with his wife's singing family. The non-singer appeared as a regular on The King Family Show (1965), not for any musical prowess. On the program he appeared in comedy sketches and sentimental readings.
He wrote, produced, directed and stared in the cult movie "The Hideous Sun Demon" (1958). The movie was featured in the 1982 movie send-up "It Came from Hollywood" (1982) which starred Dan Aykroyd, John Candy, Gilda Radner, Cheech Marin and Tommy Chong. In 1983 "The Hideous Sun Demon" was re-dubbed and re-edited into a monster spoof movie called "What's up, Hideous Sun Demon". The premise is about a suntan lotion that works from the inside out. It also has a bad side effect."
Clarke also wrote an autobiography with Tom Weaver called "Robert Clarke: To "B" or Not to "B": A Film Actor's Odyssey". On April 22, 2005 a spoof of 1950's science fiction movies featuring many actors of the era "The Naked Monster" was released. B-movie legends defend planet Earth against a super-sized, three-eyed, extraterrestrial lizard. Robert Clarke's character's name was Major Allison from "Beyond the Time Barrier". Other cameo appearances came from 1950's actors Kenneth Tobey, Lori Nelson, John Agar, Robert Cornthwaite, Ann Robinson, Les Tremayne and Gloria Talbott.
Clarke married Alyce King of the singing group "The King Sisters" in 1956. They were married until her death in 1996. He was survived by his son actor/voice artist Cam Clarke, two stepsons (Ric de Azevedo and Lex de Azevedo ), 11 grandchildren and 18 great-grandchildren. Clarke died at his home in Valley Village, California from complications of diabetes. He was 85. He was buried in Forest Lawn Memorial Park at Los Angeles, Los Angeles County, California.