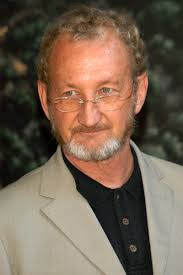 6/6/1947 to
Robert Barton Englund was born in Glendale, California. His father John Kent Englund was an aeronautics engineer who helped to develop the Lockheed U-2 spy plane. He began studying acting at the age of twelve in the children's theater program at California State University. He continued his training in high school and college. He also performed in regional theater. He is a classically trained actor who played on stage in The Shakespeare festival from 1969-1972.
His first film work was in 1973 in "Buster and Billie". Some of his other movies were; "Eaten Alive" 1976, "Galaxy of Terror" 1981, "The Phantom of the Opera" 1989, "Night Terrors" 1993, "The Mangler" 1995, "Python" 2000, "2001 Maniacs" 2005, "Zombie Strippers" 2008, "Strippers vs Werewolves" 2012, "Lake Placid: The Final Chapter" 2012, "Lake Placid vs Anaconda" 2015, and many, many more.
He's worked steadily throughout his career. He played Willie on the TV mini series "V" in 1983 as well as the subsequent TV series in 1984-1985. Some of his other TV guest appearances were on; "Charlie's Angels", "Chips", "Hart to Hart", "Simon & Simon", "MacGyver", "Knight Rider", "Walker Texas Ranger", "Married.. With Children", "Criminal Minds", "Babylon 5", and many, many more.
The "Nightmare on Elm Street" franchise started in 1984. Englund played Freddy Krueger in 8 "Nightmare on Elm Street" movies. He was also the host of the TV series "Freddy's Nightmares" in 1988-1990, "A Nightmare on Elm Street: Real Nightmares" in 2005 and "The Freddy Krueger Special" in 1988. In 1987 he recorded an album called "Freddy's Greatest Hits" as Freddy Krueger. He also appeared in two music videos as Freddy Krueger.
His work in voice-over animation includes magician Felix Faust in "Justice League", The Riddler on "The Batman", The Vulture on "The Spectacular Spider-Man", and as Dormammu on "The Super Hero Squad Show". His voice is also in 5 video games as various characters.
Englund made his directorial debut with the 1988 horror film "976-EVIL". He has been in over 75 feature films and starred in four TV series. At one time he was a TV and radio host. He is a surfer. He also makes appearances at various Comic Cons. Englund was briefly considered for the part of Han Solo in the 1977 film "Star Wars". He told his close friend Mark Hamill, who was sleeping on his couch, to go audition for the role of young Luke Skywalker, for which Hamill ultimately was cast.
Quote: When I was 9, I went to a birthday party. We were supposed to see a cowboy movie, but the programming got screwed up and we saw "The Bad Seed" 1956 instead. Horrifying. For years I was frightened of girls with pigtails.
He married twice. First to Elizabeth Gardner (1968 to 1972) and second to Nancy Booth from 1988 to present. He has one child.