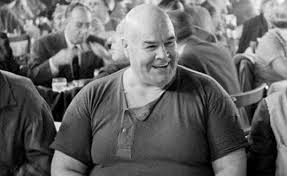 10/19/03 to 5/12/71
Karl Oscar Tore Johansson was a Swedish actor. Most of his life he was a professional wrestler. He worked under several names; 'Swedish Angel', 'Super-Swedish Angel' and 'King Kong'. Tor started appearing in movies in uncredited bit parts. He was usually the weightlifter or the strongman. Later he was given larger roles with character names. He was in the Bing Crosby/Bob Hope movie "Road to Rio" (1947) as Samson, and had a part in "Abbott and Costello in the Foreign Legion" (1950) as Abou Ben.
Tor is best known for the movies he did for Ed Wood. He was Lobo in "Bride of the Monster" (1955) and "Night of the Ghouls". He was also in "Plan 9 from Outer Space" (1959). Anthony Cardoza cast Tor in a starring role in his low budget movie "The Beast of Yucca Flats" (1961). This movie was filmed silent, had dubbed-in sound effects and voiced-over narration. The movie basically killed off Tor's movie career once and for all.
Tor had somewhat of a TV career in the 1960s, appearing on "You Bet Your Life" with Groucho Marx, several appearances on "The Red Skelton Show," and even doing a number of TV commercials.
Tor was 6'3". He has 49 acting credits to his name. He had a thick Scandinavian accent. Many of Tor's friends and peers had commented that he was a very friendly man and easy to work with on movie sets. Valda Hansen, who worked with Johnson in the 1959 movie "Revenge of the Dead" said that "Tor was like a big sugar bun. Tor's wife once said that she never liked to watch Tor in the horror films because it made him seem more like a monster and that was not even close to how he really was.
Other neat stuff: The Don Post-Tor Johnson Mask is the most famous mask of all time. Tor actually had naturally blond hair but kept his head shaved for wrestling and films. Karl Johnson, Tor's Son, also appeared in a few of Tor's films with him. According to legend, Tor became close friends with Bela Lugosi and once prevented Lugosi from committing suicide by threatening to throw him out a window. Tor, being a very large man, unfortunately had a tendency of shattering toilet seats when he sat on them. Because of this, Tor had a habit of stealing toilet seats from the hotel rooms he stayed in. He revealed on a 1950 edition of "You Bet Your Life" that his weight was 387 pounds, and his hips were 60", waist 54", chest 62", biceps 22", neck 20". Tor also loved his beer and would usually drink a case at a time. It is thought that Tor was a distant relative of Swedish boxing champ Ingemar Johanssen. Tor drove a small foreign compact car that was not much bigger than he was.
He was married to Greta Maria Alfrida Johansson. He had one son Karl Johnson (1924–1993). Karl, grew up to be big and strong, and became a Lieutenant with the San Fernando police.
Tor died on May 12, 1971, in San Fernando, CA, of a heart ailment; he was 67.