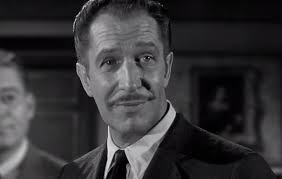 5/27/11 to 10/25/93
Vincent Leonard Price Jr. was an American actor. He was born in St. Louis, Missouri. He was the youngest of four children. His father Vincent Leonard Price Sr. was president of the National Candy Company. His grandfather was Vincent Clarence Price. He invented "Dr. Price's Baking Powder", the first cream of tartar–based baking powder. It secured the family's fortune. Price is descendent from pilgrims that came to America on the Mayflower.
After teaching for a year, he entered the Courtauld Institute of Art in London, intending to study for a master's degree in fine arts. Instead, he was drawn to the theater. He first appeared on stage in 1934. His first venture into the film horror genre was in the Boris Karloff film "Tower of London" 1939. The following year he portrayed the title character in "The Invisible Man Returns". He briefly reprised the role in a vocal cameo at the end of the horror-comedy spoof "Abbott and Costello Meet Frankenstein".
Voiceovers: Alice Cooper's first solo album "Welcome to my Nightmare". He voiced the narration in Tim Burton's "Vincent". Voiced the ending to Michael Jackson's Thriller. He was Professor Ratigan in "The Great Mouse Detective". He was Vincent Van Ghoul in "The 13 Ghosts of Scooby-Doo". He was the voice of the mirror in Shelly Duvall's "Faerie Tale Theatre". Is remembered by some Canadians for his narration on "The Hilarious House of Frightenstein".
He is best known for his performances in horror films, although his career spanned other genres, including film noir, drama, mystery, thriller, and comedy. He appeared on stage, television, and radio, and in more than 100 films. He has two stars on the Hollywood Walk of Fame, one for motion pictures and one for television. He also has a star on the St. Louis Walk of Fame.
He was married three times: Coral Browne 1974–1991, Mary Grant 1949–1973, Edith Barrett 1938–1948. He has one son and one daughter. Price was supportive of his daughter who came out as lesbian, and he was critical of Anita Bryant's anti-gay campaign in the 1970s.
Other neat stuff: He was an art collector and arts consultant with a degree in art history, and he lectured and wrote books on the subject. The Vincent Price Art Museum at East Los Angeles College is named in his honor. He was also a noted gourmet cook. Had started an egg-throwing fight while making a guest spot as the villain Egghead on the television series "Batman" (1966). His likeness appeared on such Milton Bradley games as "Hangman" and "Shrunken Head Apple Sculpture" in the 1970s. Vincent once told the story of a woman on a flight to Barcelona who asked him for an autograph, confusing him with Boris Karloff. Always the gentlemen and not wanting to disappoint her, Vincent brought Boris Karloff back to life and gave the woman an autograph fifteen years after the actor had died. In his later years, when asked for his autograph, he would often sign "Dolores Del Rio" instead of his actual name. When asked why, he replied, in complete seriousness, "I promised her on her deathbed that I would do what I could to keep her name alive!" He was the visual inspiration for the original illustrations of the comic book superhero Doctor Strange/Stephen Strange (created in 1963). Price was 52 years old at the time. Strange's full name is Stephen Vincent Strange. Sesame Street made a puppet with his likeness, Vincent Twice Vincent Twice, when he found out about it he was ecstatic and considered it a great honor. In the 1970s, Tom Baker and Ian Marter attempted to develop a film script which was specifically intended to co-star Price entitled "Doctor Who (1963) Meets Scratchman", which would have been directed by James Hill. However, copyright issues prevented this film from ever being realized. Nicknames: The King of the Grand Guignol, The Merchant of Menace, The Renaissance Man, The Master of Horror.
Vincent Price died in Los Angeles in October 1993 at the age of 82. People magazine eulogized him as "the Gable of Gothic".