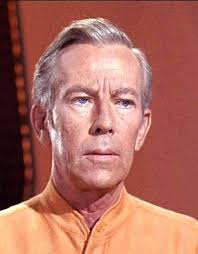 10/25/09 to 4/5/96
Whitner Nutting Bissell was an American character actor. Whit was born in New York City. His parents were Dr. J. Dougal Bissell and Helen Nutting Bissell. His father was a surgeon. He attended the Alan Stevenson School and the Dalton School in New York. He majored in drama at the University of North Carolina at Chapel Hill. He was an airman in the US Army Air Corp..
Whit had three brothers and one sister. He was an avid yachtsman and fencer in his youth.
Whit did some work in the theater before moving to films. His appearances include "The Star-Wagon" (1937), "The American Way" (1939), "Two On An Island" (1940), "Cafe Crown" (1942) and "Winged Victory" (1943).
He began working in films in Hollywood in the 40's. Some of his movies include "He Walked by Night" 1948, "Lost Continent" 1951, "Creature from the Black Lagoon" 1954, "Target Earth" 1954, "The Atomic Kid" 1954, "Invasion of the Body Snatchers" 1956, "I Was a Teenage Werewolf" 1957, "I Was a Teenage Frankenstein" 1957, "Monster on the Campus" 1958, "The Time Machine" 1960 and "Soylent Green" 1973.
Some of his TV appearances include "The Incredible Hulk", "The Night Rider", "Project U.F.O.", "The Bionic Woman", "Land of the Giants", "Star Trek", "The Invaders", "The Time Tunnel", "The Man From U.N.C.L.E.", "Voyage To The Bottom Of The Sea", "Perry Mason", "The Alfred Hitchcock Hour", and "Men Into Space" to name a few. He has over 300 acting credits in film and TV to his name.
His "Star Trek" episode was "Trouble with Tribbles". On "The Time Tunnel" he played General Heywood Kirk in 30 episodes. He was also a regular on the 50's sitcom "Batchelor Father". Bissell received a life career award from the Academy of Science Fiction, Fantasy and Horror Films in 1994. He also served for many years on the board of directors of the Screen Actors Guild, and represented the actors' branch of the Academy of Motion Picture Arts and Sciences board of governors.
Whit was married three times; Adrienne Marden (1938–1954). They had 2 children. Dilys Mary Shan Jukes (1954–1958) until her death. They had 1 child. Jennifer Raine (1967–1993) until her death. All together Wit had 3 children and 1 stepson.
Bissell died in 1996 at the Motion Picture & Television Country House and Hospital in Woodland Hills, California from the effects of Parkinson's disease. He was interred in the Westwood Village Memorial Park Cemetery in Los Angeles.