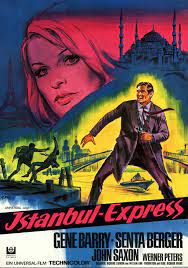 The Istanbul Express runs through seven countries, from Paris, France to Istanbul, Turkey.  The security chief on the train is Cheval (John Saxon).  It is his responsibility to make sure the train gets from one destination to another safely.  While the train is being prepared for its next trip, Cheval foils an attempt to blow up the train with a timed device designed to go off an hour into the run.
One of the passengers that are scheduled to be in that car is Michael London (Gene Barry).  Michael is an art dealer and a government agent.  His colleague Peggy (Mary Ann Mobley) tells him that his assignment this trip is to bid on some important top-secret notes that had once belonged to a research scientist.  They are being sold to the highest bidder, in a private auction, to be held in Istanbul. 
The winning bidder must pay in cash.  Since he can't carry that much money across the continent, when he gets to Istanbul he is to go to a specific bank and retrieve one million dollars from a safety deposit box.  The number of the box is five digits long.  He is to receive one number from five different people throughout the trip.  The messengers will use the code word Macbeth before they give him their number.  The numbers will be given to him in order. 
The opposition will stop at nothing to prevent Michael from completing his assignment.  Michael is unsure who is on his side and who is not.  Along the way he is attacked by an unknown assailment in the baggage car and is drugged and shot up with true serum by a fake doctor.  The Russian agents, Mila Darvos (Senta Berger) and Dr. Lenz (Werner Peters), attempt to bribe him.  When that doesn't work, they try to kill him. 
"Istanbul Express" was released in 1968 and was directed by Richard Irving.  It is a made for television adventure crime film but had a theatrical release overseas.  The movie was filmed in Paris, France, Italy, Serbia and Istanbul, Turkey.
Sure, it's not "Death of a Salesman", but it's not supposed to be.  What it is still is fun and actually pretty good.  A combination Burke's Law and James Bond style spy thriller but not heavy on the drama.  Only about half of the movie happens on the train.  The rest of it occurs at a couple stops along the way and at the auction site in Istanbul.  It gives the movie opportunity to change the scenery and add some nice twists and turns to the story.
I'm not sure if there ever was an official release of the film on DVD.  There might have been one in Europe.  There are bootleg copies of the film although they may be a little hard to find.  It is a little on the obscure side so even if you find it, make sure that it is playable on your equipment.