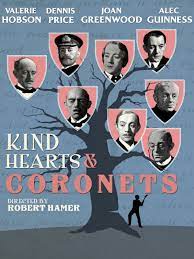 Louis D'Ascoyne Mazzini (Dennis Price) is the 10th Duke of Chalfont.  He is in prison and is to be hung the next morning for murder.  While awaiting his fate he writes his memoirs. 
Louis' mother, (Audrey Fildes) was the youngest daughter of the 7th Duke of Chalfont.  She fell in love and eloped with an Italian opera singer.  Her family disowned her.  Five years later Louis was born.  His father died not long after that.  Louis' mother took in a boarder to make ends meet.  The young Louis learned about his family heritage from his mother.  Attempts to contact the D'Ascoyne family resulted in Louis and his mother being snubbed.
When Louis is older, he proposes to his childhood friend Sibella (Joan Greenwood).  Sibella decides to marry Lionel Holland (John Penrose), the son of a rich family.  When Louis's mother dies the D'Ascoyne family refuses to allow his mother to be buried at the family estate.  Louis then decides that he will kill the remaining heirs to the D'Ascoyne heritage and succeed to the dukedom.  Currently there are eight D'Ascoynes ahead of him.
Louis kills Ascoyne D'Ascoyne (Alec Guinness), the son of the elderly banker, Lord Ascoyne D'Ascoyne (Alec Guiness).  Louis writes a moving letter to the Lord with his condolences.  The elderly Lord hires Louis to work for him as a clerk.  He also begins having an affair with Sibella.  Louis then sets his sights on killing Henry D'Ascoyne (Alec Guiness).  In the process he decides that Henry's beautiful wife Edith (Valerie Hobson) would make a fine Duchess.  He then begins to quietly woo Henry's widow.
Louis continues to, one by one, eliminate each of the D'Ascoyne heirs.  He does become fond of Lord Ascoyne D'Ascoyne and ends up being made partner of the bank.  Lord D'Ascoyne dies of a heart attack at the same time Louis is arranging the death of Ethelred, the current Duke (Alec Guiness).  Finally, Louis becomes the 10th Duke of D'Ascoyne.  But Louis' success doesn't last long.  Scotland Yard arrests him for murder, but which murder?   
"Kind Hearts and Coronets" was released in 1949 and was directed by Robert Hamer.  It is a British black comedy crime film.  The film is loosely based on the novel "Israel Rank: The Autobiography of a Criminal" written by Roy Horniman in 1907.  Filming was partially done at Leeds Castle. 
Alec Guiness plays eight characters in the film, all in the D'Ascoyne family: Ethelred, 8th Duke of Chalfont, The Reverend Lord Henry, General Lord Rufus, Admiral Lord Horatio, Lord Ascoyne, the banker, Young Ascoyne, the banker's son, Lady Agatha, the suffragette and Young Henry, the photographer.
The methods of death are; being swept over a waterfall, two people blown-up, poison, shot, air balloon shot down by an arrow, one accident and one natural causes.
"Kind Hearts" is a very droll and well-shaped movie.  Done mostly in flashback, it is a dazzling example of good British filmmaking.  Most of it due to Alec Guiness.  Guiness does a very sober portrayal of the D'Ascoyne clan but still manages to inject some sardonic humor into each character.  The rest of the characters are also well defined, and the cast well chosen.  It is a great movie.