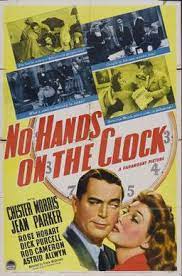 Humphrey Campbell (Chester Morris) works as a private detective for Oscar Flack (George Watts).  Humphrey was assigned the task of finding a missing woman, Louise (Jean Parker).  Humphrey finds her, falls in love with her and marries her.  They call Oscar to give him the good news.  Oscar is not happy since his job was to bring her back and not marry her.  The happy couple stops at a bank to cash a check so they can honeymoon in Reno, Nevada.  While they are in the bank, three men come in and rob it.
Oscar shows up in Reno and talks Humphrey into doing a job.  Warren Benedict (James Kirkwood) wants Humphrey to find his son, Hal.  Hal was supposed to be engaged to Warren's ward, Rose Madden (Billie Seward), but is often seen with a redhead in a hotel bar.  The redhead is Irene Donovan.  A blonde woman, Gypsy Toland (Astrid Allwyn) tries to waylay him but when he sees his wife looking for him, Humphrey sneaks off.  When he gets to Irene's place, he finds her dead with a silver dollar in her hand.  He also finds Rose.  Rose insists that she didn't kill Irene.
Humphrey visits a private investigator named Clyde Copley (Lorin Raker).  Copley says he was hired by Hal to retrieve some letters he wrote to Irene.  Irene was using the letters to blackmail Hal so he wouldn't marry Rose.  Humphrey finds out that the silver dollar that Irene was holding is a trademark used by a hood named Red Harris (Dick Purcell).  Harris and his gang were the same guys that robbed the bank that Humphrey and Louise had been in.
The investigation gets more complicated as the FBI become involved.  It turns out that Humphrey looks like a bank robber they are after named Stafford.  Red Harris also thinks that Humphrey is Stafford and is looking for some revenge for some kind of double cross Stafford supposedly did.
In addition, Benedict receives a ransom a ransom note for Hal's return.  More dead bodies start piling up and Humphrey must sort out who did what to find a killer while trying to keep his wife from ending up in the crossfire.  
"No Hands on the Clock" was released in 1941 and was directed by Frank McDonald.  It is an American murder mystery comedy.  The film was based on the novel "No Hands on the Clock" by Daniel Mainwaring.  Mainwaring wrote under the pseudonym Geoffrey Holmes.
The movie is a bit of a mess.  There are dozens of characters, some of them never even introduced, as well as subplots that are only slightly connected with each other.  There's almost no character development and suspects are thrown in and tossed out as needed to further the thin plot along.  It's difficult to follow especially with some strange plot holes.  At least I think they're plot holes.  There's so much going on that I'm not sure everything was covered.  It is a fast-moving film.  With all those characters and plots, it has to be. 
Jean Parker is adorable, and Chester Morris is silly.  Together they are snappy, and the chemistry suits them.  Keye Luke has a tiny part as a stereotypical Asian complete with a really bad accent.  Even with its shortcomings the movie is a fun jaunt, which is basically all it's supposed to be to give some respite to WWII audiences.