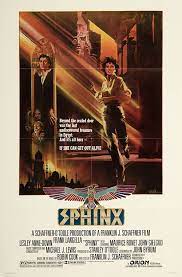 In ancient Egypt, the chief architect for Seti I, Menephta (Behrouz Vossoughi), is having problems with figuring out how to deal with grave robbers.  To preserve the Pharaohs tomb he comes up with an ingenious way to keep grave robbers from discovering where the tomb is.    
In modern day Egypt, Erica Baron (Lesley-Anne Down) is an Egyptologist who is researching Menephta.  Part of the interest in Menephta and Seti I is in trying to find the location of Seti's tomb.  As of yet, no one has found it.  At least no one that has admitted it.  Erica is in Egypt as a sort of working holiday.  While there she plans on visiting the pyramids and the sphinx as well as the treasures unearthed from Tutankhamen's tomb. 
In Cairo she visits an art dealer named Abdu-Hamdi (John Gielgud).  Hamdi shows her a statue of Seti that he acquired on the black market.  He gives her a book and asks her to take it to Luxor and give it to his son, Tewfik (Tutte Lemkow).  Erica manages to take some pictures of the statue and of some unusual hieroglyphs on the base of the statue before Abdu is murdered.  Erica hides as three men take away the statue.  She then meets a French journalist for a European magazine, Yvon Mageot (Maurice Ronet).  Eventually he convinces her not to go to the police.
Next she meets Akmed Khazzan (Frank Langella), the Director General for the Department of Antiquities of the Egyptian Arab Republic.  He questions her about the black market and Mageot.  He already knows about Abdu-Hamdi's death.  Eventually she tells Khazzan about seeing the Seti I statue and that it was the reason Abdu-Hamdi was killed.
Erica does some sightseeing and is followed by everyone.  When someone tries to shoot her, she is saved by Khazzan's assistant Gamal (Nadim Sawalha) but he is killed in the process.  Erica decides to leave Egypt until she remembers she still has the book that Abdu-Hamdi gave her.  She decides to go to Luxor.  In Luxor she runs into Khazzan.  They become lovers.  Erica does some more investigating and figures out that the hieroglyphs on Seti's statue tell where his treasure can be found.                 
"Sphinx" was released in 1981 and was directed by Franklin J. Schaffner.  It is an American adventure mystery and was based on the 1979 novel by Robin Cook.  It is probably the only book of his that is not medicine or public health based.
It is a very long movie, with very little to say.  This may be part of the reason it didn't do very well at the box office.  The other part may be because it came out the same year as "Raiders of the Lost Ark" 1981, and "Raiders" had a lot more action and plot.  Many find it confusing.  Most likely because there are too many bad guys and everybody's following everybody else.  In the middle is a travelogue of Egyptian sights that adds a lot of cool cinematography but also padding to the movie.  There is action, and quite a lot of nasty things happen to the heroine, but they aren't all that impressive.  I'm not totally sure why.  It's an average movie in a pretty package.